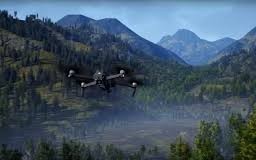 Review – DJI Flight Simulator – Professional Pilot Training
November 5, 2018
DJI has released their own flight simulator for drone enthusiasts and professionals. There are many flight simulators out there but there are several things that, I think, set DJI apart from the rest:
Their approach to the simulator content and training – It's not just a flight simulator to show you the controls.
The realism achieved – Grass, trees, rocks, water, it's all there in amazing detail.
The flight modes covered – P-mode (Positioning), A-mode (Attitude) and S-mode (Sport).
An excellent physics engine – From realistic flight characteristics to the splash when you crash into the water, it's all there.
The multiple point of views available to conduct your flight – Drone Follow, Drone FPV, Pilot FPV, Remote Control View and 3rd Person View.
It offers training for the drone professional, not just the enthusiast – It offers skills and application training for the professional.
It's made by the same company that makes the drone you fly (assuming you're flying DJI) – Why go somewhere else?
The DJI Flight Simulator offers professional pilot training while offering realistic graphics and physics models to simulate actual conditions and responses. This is a great tool for professionals and hobbyists alike.  Keep reading this review for more details.
If you don't yet have an actual DJI drone of your own, check out my https://mavicmaniacs.com/what-is-the-dji-mavic-pro-only-one-of-the-best-drones-ever, https://mavicmaniacs.com/the-dji-mavic-2-the-new-models-are-finally-here and https://mavicmaniacs.com/the-dji-mavic-2-enterprise-its-finally-here posts for reviews on various models to consider. You can also take a look at my https://mavicmaniacs.com/what-about-the-mavic-air-this-is-a-site-for-everything-mavic-isnt-it post on the Mavic Air or my https://mavicmaniacs.com/dji-mavic-which-one-to-choose comparison post that pits these models against each other side-by-side.
THIS POST MAY CONTAIN AFFILIATE LINKS. PLEASE SEE OUR AFFILIATE DISCLOSURE FOR MORE INFORMATION.
Why the DJI Flight Simulator?
Sure, there are several options on the market from desktop solutions to phone and tablet options. Why choose DJI over one of the others? In short, because they thought this product through.
It offers all kinds of bells and whistles and yet is easy to install and get started with. The realism is pretty good and the ability to connect your actual drone's controller is way better than some on screen or keyboard based solution. It's supposed to be a simulator, how are you expected to get a sense of realism if you can't even use the actual controller with it? Best of all, it's free for the hobbyist to use. The additional professional features are pay-for but not required to get a lot of of this tool.
Check out DJI's own introduction video to the DJI Flight Simulator:
What Does it Offer?
This simulator offers quite a bit. Check out some of the notable features:
Three flight modes:

P-mode – The aircraft uses GNSS or Vision Positioning System for positioning. It allows the aircraft to hover precisely and brake automatically.
A-mode – Neither the GNSS nor Vision Positioning System is used for positioning. The aircraft can only maintain attitude. It's significantly more difficult to control the aircraft.
S-mode – The aircraft uses GNSS or Vision Positioning System for positioning. It allows the aircraft to hover precisely and brake automatically. The aircraft flies at high speed. Operate with caution.

Multiple point of views:

Drone Follow – The video camera is behind the aircraft to follow its movements.
Done FPV – The view from the aircraft camera.
Pilot FPV – The pilot's perspective looking toward the aircraft.
Remote Control View – The view looking at the handheld remote controller from the pilot's perspective.
3rd Person View – The view of the pilot from a 3rd person's perspective.

Comprehensive Physics Engine – Realistic flight characteristics.
Life-like environments:

Wind effects – The aircraft and environment reacts to external factors (such as drifting in a breeze or the blades of grass being forced down when hovering above, etc.).
Ground effects – Both the effect the aircraft has on the ground below it and the forces acting on the aircraft due to it's close proximity to the ground
Simulated crashes – Yep, it's just as it sounds…you'll get tangled in trees, bounce off rocks and splash in the water.

Multiple training modules (Which ones will be available to you will depend on what version of the application you are running. See below for more information.):

Skills Training – This module offers all kinds of training options including:

Tutorials – Basic aircraft piloting with three levels: Basic Flight Skills, Shooting Skills and Flight Mode.
Hovering Test – Provides a series of virtual testing conditions to assist you in testing and improving your hovering skills. Levels include: Single Target, Multiple Targets, Fixed Orientation Hovering, Four Directions Hovering, Single Target with Wind, Multiple Targets with Wind and Four Directions with Wind.
Fly Track Test – Tests your control skills over the aircraft. Requires you to fly along a designated route in A-mode with eight levels to choose from: Square Track (Overhead View), Square Track, Rectangle Track (Overhead View), Rectangle Track, Ring Track (Overhead View), Ring Track, Double Ring Track (Overhead view) and Double Ring Track.
UTC Pylon Inspecton Test Process – A series of scenarios designed for UTC pylon inspection with six levels: Preparation, Route, Hovering, Multi-dimensional Operation, BVR Operation and End of Operation.
DJI Internal Aircraft Skill Test Process – A series of scenarios designed for DJI internal aircraft skill test including five levels: Preparation, Takeoff and Landing, Rectangle Track, Ring Track, Hovering and End of Operation.

Free Flight – This mode allows for free flight (i.e. no structured course to run, etc.). It offers 5 location scenarios allowing you to pick the one most suitable to your situation:

Fee Flight-City – Unlimited flight in a city environment with five level/location options.
Free Flight-Island – Unlimited flight in an island environment with four level/location options.
Free Flight-Hangar – A single level/location option for practicing flight inside and around a hangar.
Free Flight-Mountain – A great option for practicing flight in mountainous terrain. There are three levels to choose from.
Free Flight-Forest – The scenario to select if you plan to fly in forest-like environments. There are three levels to choose from here as well.

Entertainment Module – This module allows you to choose from two different options:

Time Trial – This is a great option to practice racing. You must fly along a designated patch, fly through each checkpoint all while trying to do so as fast as possible. The quicker you complete it successfully the better your score.
Tunnel Run – Pass through energy rings to gain points and additional flight time.

Application Training – This mode is for training in specific professions:

Power Line Inspection – This mode is designed to train the pilot for power line inspection procedures using a drone and includes two levels:

Getting to Know the Pylon
Inspection Practice

Search and Rescue – This mode offers only one type of location and scenario, searching for a male hiker lost in the forest.

Direct connection to DJI controllers – The simulator will recognize the controller and the buttons and functions will be mapped accordingly. Press the RTH and your drone will return to home in the simulator, etc.
Multiple drone model support – Depending on the application version you have, you'll have access to different drone models. See below for more information.
Depending on the version you choose you will have access to the following functions within the application:
Versions
Functions
Free Trial Version
Enterprise Version
Customized Version
Consumer Drones
X
X
X
General Settings
X
X
X
Free Flight
X
X
X
Enterprise Drones
X
X
Advanced Parameter Settings
X
X
Skills Training
X
X
Application Training

– Search and Rescue

X
X
Application Training

– Power Line Inspection

X
Customization
X
Module and drone availability based on application version:
Free Trial Version:
Modules – Two available:

Free Flight
Entertainment

Aircraft – Six supported:

Mavic 2 Zoom
Mavic Air
Mavic Pro
Spark
Phantom 4 Pro
Inspire 1 Pro
Enterprise/Customized Version:
Modules – Four available:

Free Flight
Entertainment
Skills Training
Application

Aircraft – Nine supported:

Mavic 2 Zoom
Mavic Air
Mavic Pro
Spark
Phantom 4 Pro
Inspire 1 Pro
Mavic 2 Enterprise
Inspire 2
Matrice 210 RTK
How Does it Perform?
I can tell you my work laptop doesn't cut it however my gaming desktop handles it very nicely.
My laptop is several years old with only a 256 MB video card 8 GB of RAM and a quad core i7 from yesteryear. I was able to install the simulator but it was literally unplayable with the lowest settings configured. It was so bad I had to force quit because it just wasn't responding while it tried to draw the animations in the background.
My gaming desktop had no issues what so ever and the simulator was extremely detailed and smooth to "play". I can't stress this enough. Make sure you have a decent powerhouse of a machine to use this to it's full potential.
What are the Requirements?
As I've said above. You can play this on an old laptop, if you don't mind losing your mind as it chunks along (actually mine was really unplayable) but you're better off installing this simulator on more reasonable hardware. A machine built for speed and gaming will definitely make a difference here and having the appropriate accessories (i.e. actual drone remote controllers) will provide the best simulator experience. Here are the minimum, recommended and optimal system requirements (again I'd lean as much to optimal as you can):
| Unit | Minimum setup | Recommended setup | Optimal setup |
| --- | --- | --- | --- |
| CPU | G4560 | i5-6400 | i7-7700 |
| GPU | GTX 1050 Ti | GTX 1060 or 1070 | GTX 1080 Ti |
| VRAM | 4GB | 6GB or 8GB | 11GB |
| RAM | 16GB | 16GB | 32GB |
| HDD | 80GB Free | SSD+80GB Free | SSD+80GB Free |
Frankly, if you want the best performance, don't consider the minimum option and go for the recommended or optimal.
Conclusion
There you have it, everything I know about the new DJI Flight Simulator. It has a lot of options that are just great for the current or aspiring drone pilot, especially if they are using or plan to use a DJI drone and offers professional pilot training for those who need such offerings.
For most of us the Free Trial is enough (and that's what I have so I haven't really been able to test out every feature this application has to offer). You can download the latest version and the user manual here. If you need a drone or scenario not available in the Free Trial version then, by all means, go get it. That said, I have no idea what the cost of the application is for the Enterprise and Customizable versions.
One thing to note, yes you can fly any of these via the keyboard but that's not really beneficial if you're using it for actual training. You're better off connecting the appropriate remote controller to the simulator to gain the motor and coordination skills for real-world applications. Not everyone has every drone though so you may not have the correct remote controller for a specific model. The nice thing is you can acquire them without having to buy the entire drone package. Sure it still costs money but, in the long run, it's a great investment, especially if you're training multiple pilots or wanting to keep your skills up on various models regardless of actual access to the aircraft or what the weather may have planned for you.
You can usually find remote controllers for sale second-hand on sites such as eBay or Facebook Marketplace, put there by others who may have had an unfortunate experience and no longer need them. You can also buy them brand-new from online retailers such as Amazon.com (I'll post a few below). You can use them strictly for training, as backups for existing remotes or, in some cases, secondary remotes for a two remote setup (i.e. pilot and camera operator). In any event, one or more remote controllers can benefit you in a variety of ways.
The DJI Flight Simulator is not sold directly from DJI but rather through their authorized resellers and they simply offer a form to enter your information on to have someone contact you for more details. You can find it at the bottom of DJI's official DJI Flight Simulator webpage.
Have you used the DJI Flight Simulator? Do you have an opinion on it? What do you think of my multiple remote controllers recommendation? Did I miss anything in this review? Please let me know, whatever you have to say, by commenting below.
Thank you,
Scott Hinkle
MavicManiacs.com