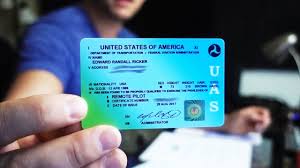 Get the FAA Drone License – Make Money Legally with Your Mavic – Updated again!
April 6, 2018
8
By
Scott Hinkle
You've got your drone. You want to make money with it. Do you really need to get the FAA Drone License? If you want to make money legally with your Mavic, at least in the US, yes you do.
For information on one way you can make money with your Mavic check out my DroneBase – Make a Little Money on the Side post.
THIS POST MAY CONTAIN AFFILIATE LINKS. PLEASE SEE OUR AFFILIATE DISCLOSURE FOR MORE INFORMATION.
Why Get an FAA Drone License?
There's nothing stopping you from grabbing your drone, taking pictures and selling them (on the internet, to a Realtor or anyone else for that matter), however, doing so, is technically breaking the law. Want to volunteer your drone services to assist in a search and rescue? You'll need your a waiver or your Small UAS FAA Part 107 license to do so. If you intend to use your drone commercially (i.e. to make money) you are required, by law, to get it as well. This license shows you've passed the test and know how to operate your drone in a safe manner that is compatible with our national airspace system and are aware of the rules and regulations that must be followed.
What are the Requirements?
The requirement list is actually pretty small:
You must be at least 16 years of age or older.
You must pass an aeronautical knowledge test at an FAA-approved knowledge testing center.
You must undergo Transportation Safety Administration (TSA) security screening.
Once you meet these 3 requirements there's some registration and paperwork to do and, once completed, you'll have your license!
How Should I Study?
By far, the most asked question is "How do I study for the test?". There are several ways to go about preparing yourself for the FAA Part 107 test:
Search online for free reference material – There is a lot of freely available material to help you study for the test. Sadly it isn't always in an easy step-by-step format.
Sign up for an online training course – These tend to be the most popular option. I, myself, used the King Schools Drone Pilot License Test Prep Course online. It was a little over $100 and, after a week of study, I passed with a 96%. ***UPDATE*** I was recently introduced to a training course on Udemy.com by Greg Reverdiau, an FAA Certified Flight Instructor, Commercial Pilot, and Remote Pilot.  His course is usually $189.99 but, thanks to Greg's generocity, I have it here for $46.99 instead.  To get the course at the discounted price just follow this link: UAS (Drone) Remote Pilot Test Prep for FAA Part 107 Exam
Get training in person. Just like earning your Private Pilot license in flying, you can obtain training from Certified Pilot Instructors. This provides the advantage of real-time feedback from a live person.
Study from a book (old school).
In-app training.  Check out the DroneUp app in my DJI Mavic Pro Apps – My Top Picks post.  They offer FAA Part 107 training in the app for free!
Wing it – Some people just jump in and take the test with no formal preparation. I do not recommend this course of action as the test does cost money to take and, if you're ill-prepared, you're just throwing it away.
In the end the method you choose should reflect your study habits. Pick the one that you're most comfortable with and feel you will get the most benefit from. I know budget can play a role in making the selection but, when it comes to learning how to operate your drone safely within the national airspace system, make sure you take the time to really learn the rules and regulations. You don't want them to bite you in the butt down the road (i.e. you have your UAS license, you know the law, why did you do x?).
What Kind of Questions Will be on the Test?
The questions vary and will include, but are not limited to, the following topics:
Flying near events or over crowds.
Airspace classes and restrictions.
Safe UAS operations.
Ability to read aviation charts.
Communication requirements when operating in a certain class of airspace or near airports.
Pilot condition – Medication use, intoxication, etc.
Briefing participants regarding roles, responsibilities, and requirements.
Reporting requirements.
Identifying hazardous attitudes.
Where to find relevant information for an airport or specific airspace.
Scanning for traffic.
Aircraft registration requirements.
Times when flights can be conducted.
How to obtain weather information and notices to airmen.
Aircraft performance, maintenance and pre-flight inspection.
Emergency procedures.
Aeronautical decision-making and judgment.
Airport operations.
This is just a small list of some categories you may be tested on. In the end it's important to know about all of these categories. This is where a training course or in-person training can really help.
How do I Register for the Test and What Can I Expect?
You can register for the test by contacting one of the FAA approved Knowlege Testing Centers.
If you've never tested at a testing center before, it's a little more involved than a test you might have taken at school. You register, select a date and time for the test, show up, provide valid ID and so on. One difference is this is a proctored exam. That means either someone will be in the room with you or there might be a camera or window so the proctor can keep an eye on you. You will not be able to bring any material into the testing area other than the materials they provide at the center such as a reference chart or pen and paper, etc. No phones, tablets, note or the like. You'll be set at a computer and logged into the test. It will be multiple choice and consist of approximately 60 randomly selected questions from their database. I say approximately because they also throw in a few testing questions that they want to get feedback on so it can be 63 questions in total but those 3 additional questions won't count against you if you get them wrong.
Once you complete the test you will get your results immediately. No waiting a week to get them in the mail.
I've Passed. Now What?
Now that you've passed your test you need to complete FAA Form 8710-13 for a remote pilot certificate (FAA Airman
Certificate and/or Rating Application) using the electronic FAA Integrated Airman Certificate and/or Rating Application system (IACRA) by following these steps:
Login with your username and password. If you don't yet have an account, set one up.
Click on "Start New Application" and 1) Application Type "Pilot", 2) Certifications "Remote Pilot", 3) Other Path Information, 4) Start
Application.
Follow the application prompts.
When prompted, enter the 17-digit Knowledge Test Exam ID (NOTE:
it may take up to 48 hours from the test date for the knowledge test to
appear in IACRA).
Sign the application electronically and submit to the Registry for processing.
A confirmation email will be sent once you have completed the TSA security background check. This email will provide instructions for printing a copy of your temporary remote pilot certificate from IACRA. A permanent remote pilot certificate will be sent via mail once all other FAA-internal processing has been completed.
There is also a paper process you can follow however it takes much longer and is not recommended. Online registration is the preferred method.
One last task is to register your drone on the FAA UAS Registration page and affix your registration number to your drone. Check out these cool labels and registration ID cards for the DJI Mavic Pro/Platinum and the DJI Mavic Air.  I have them on my Mavic.  They look good and give me peace of mind, should my drone go missing.
Check out DroneDJ's post: Drones are gathering crucial real-time data on construction sites to create 3D aerial maps, as an example of one commercial use for your drone.
Conclusion
Hopefully you've decided to get the FAA drone license. It my seem like a daunting task but it's really not as bad as it seems and you'll be able to make money legally with your Mavic. Once you have that license under your belt you're good for 2 years but, after that, if you wish to keep operating your drone in the US for money legally, you will need to take another test to prove you're current with the rules and regulations.
If you're even thinking about making money with your drone or volunteer your services in the US go ahead and get the license. It offers you peace of mind should the authorities ask and, by taking the training courses, may teach you a thing or two you didn't already know. Also, if you're working with another service such as DroneBase (see my DroneBase – Make a Little Money on the Side post), they may require your FAA License information before paying you for services.
Basically if you're intention is to use your drone for any other purpose other than hobbyist use, get the license.
Another item to consider is insurance. There are many options out there from dedicated business insurance, adding your drone to you home/renter's policy, obtaining a dedicated policy for your drone and even on-demand coverage from a service such as Verifly.  It's up to you but, keep in mind, at the very least you should consider liability and property damage coverage, just in case.
Here's a quick summary of some rules and regulations to fly under FAA Part 107:
Unmanned aircraft must weigh less than 55 pounds, including payload, at takeoff.
Fly in Class G airspace*.
Keep the unmanned aircraft within visual line-of-sight*.
Fly at or below 400 feet*.
Fly during daylight or civil twilight*.
Fly at or under 100 mph*.
Yield right of way to manned aircraft*.
Do not fly directly over people*.
Do not fly from a moving vehicle, unless in a sparsely populated area*.
*These rules are subject to waiver.
Remote Pilot Test Prep 2018
If you feel I've missed anything, disagree with my post or have additional items you think should be included please comment below. I do review comments and, once approved, they will be visible on this post for others to see.
Thank you,
Scott Hinkle
MavicManiacs.com