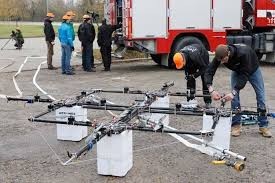 Drones and Firefighting
August 10, 2018
It seems like you can't turn on the news or log into your favorite social media site today without seeing something about drones hampering firefighting efforts (especially now that it's fire season), a near-miss between a drone and another aircraft or the occasional invasion of privacy claim. This post is going to focus on drones and firefighting, highlighting both the positive and negative impacts drones are having on firefighting efforts.
Please take the time to read this article to see how you can help, or at least not hinder. From simply "staying out of the way" to volunteering your time and experience, there are many ways to assist in firefighting efforts. Also, be sure to check out my post Community Interactions – Improving the Perception of the Drone Community for additional ways to help the drone community.
THIS POST MAY CONTAIN AFFILIATE LINKS. PLEASE SEE OUR AFFILIATE DISCLOSURE FOR MORE INFORMATION.
Drones Hampering Firefighting Efforts
There are quite a few news clips floating around lately regarding drones interfering with firefighting efforts. There are many reasons you may want to fly your drone in the vicinity of a fire:
You might want to get a better view of what's going on
You may want to check on your animals and/or property
Maybe you want to get footage to give or sell to the news channels
It can also be that your intent to fly in the area has nothing to do with the fire at all
The problem is, if your aircraft is in the air, it's an object that can cause quite a bit of damage to other firefighting aircraft. This will actually force the firefighting crews to ground their fleet rather than risk a collision. In turn, the fire can quickly spread. You may not realize the impact of a single tanker flight can have on fire containment.
Check out some of these recent articles and this one video from KUSA News:
KUSI News – July 2018 – Special Report: Drones causing chaos for California firefighters
WeTalkUAV – July 2018 – Drones hampering firefighting efforts at wildfires across the US… again!
Popular Mechanics – June 2018 – Drones Are (Still) a Firefighter's Nightmare
The Mercury News – October 2017 – Firefighters say drones interfered with their work — one pilot cited
Gizmodo – October 2017 – Hey, Maybe Don't Fly Drones Where Firefighters Are Trying to Save Lives
Quartz – July 2017 – Firefighters are getting increasingly frustrated with drones
Drones Helping Firefighting Efforts
OK, so there's a lot of negative press but there's also some positive. Drones are also helping firefighters in various ways:
Monitoring Structural Integrity – Using various views and instruments, drones can help firefighters better assess structural integrity.
Thermal Imaging – Used in various ways from finding the hot spots, allowing firefighters to concentrate their efforts on strategic locations, to locating trapped people and animals, etc.
Post Event Assessment – Getting views safely that might otherwise be dangerous to attempt in-person.
Actual Firefighting – From spraying water/fire retardant to assisting in creating fire breaks and more.
Keeping Pilots Safe – UAVs are remotely controlled, keeping the pilot safely on the ground and out of harms way.
Gathering Important Data – Drones can be equipped with all kinds of sensors that can provide critical data such as wind direction, speed and other relevant variables.
Aerial Views – Giving a better situational awareness and even allowing visualization of fire paths, escape routes, etc.
Check out some of these articles:
Drone Below – January 2018 – New Research Shows Benefits and Drawbacks of Drones in Fire Fighting
The Drive – December 2017 – Drones in Firefighting: How, Where and When They're Used
Mach – November 2017 – Drones are fighting wildfires in some very surprising ways
USA Today – March 2017 – NYC firefighters use drone to help battle blaze for first time
How can you help?
There are several things you can do to help in a firefighting situation:
First and foremost, stay out of the way. Don't give into that urge to get the perfect shot. Let the firefighters do their jobs.
Offer to volunteer your services. There are many departments out there they may not yet have a drone. Offering your services to give them a better view, etc. might be of benefit to them. The worst that can happen is they reject your offer. Keep in mind, when flying your drone for any purpose other than hobbyist use you are required to have your FAA 107 license in the US. Check out my post Get the FAA Drone License – Make Money Legally with Your Mavic for information on what's required, how to get it and various study options.
If you have a great idea on how drones can be used in firefighting efforts or for an accessory or drone design, share it. Reach out to your local fire station and see what they think of it. Maybe you can build a business with your new design and help save lives in the process.
Be on the Lookout
Keep an eye out for others that may not know, or may not care, about the flight restrictions around fires. If you see someone flying in the area ask them to stop. If they won't, consider asking local law enforcement to stop them. They only hurt the community and end up giving drone pilots a bad name and bad press.
While flying, if you happen to see a fire, report it. This is probably a rare occurrence but there might be that time you go hiking and find a fire just starting that hasn't been reported yet. Don't assume that someone is aware of it (unless you see firefighting efforts in play). Make sure that it's reported immediately. The sooner action is taken the better the odds of it being contained quickly.
Conclusion
Quite a bit of progress has been made in the area of drones and firefighting. From new tools to new rules, it's only going to get more exciting and probably a bit more restrictive. Do what you can to help, be it volunteering, staying out of the way, keeping an eye out of others, etc. Try to spread the positive side of drones when you see it and offer the positive side when someone brings up the negative. I'm not saying cover up the negative but I do believe the negative side gets a lot more attention than the positive (sensationalization and shock factor).
Did I miss something you think should be included? Do you disagree with something I've said here? Do you love this article and just want to let me know? Please comment below. I read and respond to each one.
Thank you,
Scott Hinkle
MavicManiacs.com