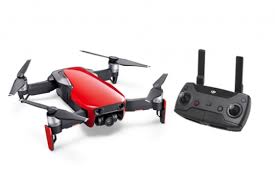 Review – What About the Mavic Air -This is a Site for Everything Mavic Isn't It?
March 29, 2018
OK, OK. It may be true that my posts thus far have been focused on the Mavic Pro but in my defense I just love it and want to share my enthusiasm with everyone. That said I did say this is a site for everything Mavic. What about the Mavic Air, it is after all a Mavic? You're right. Let's check it out and see what it has to offer in this review.  For a comparison of the entire DJI Mavic series, check out my DJI Mavic – Which One to Choose post.
THIS POST MAY CONTAIN AFFILIATE LINKS. PLEASE SEE OUR AFFILIATE DISCLOSURE FOR MORE INFORMATION.
Why did DJI Come Out with the Mavic Air?
I don't work for DJI nor did they reach out to me to tell me why they came out with this little baby but I can make an educated guess… To expand their customer base. By releasing this drone they will definitely grab a larger share of the market. Why? Here are some thoughts:
Price Point – The Mavic Air is less expensive than the Mavic Pro yet boasts a lot of the features of the Mavic Pro and even a few the Mavic Pro doesn't have. It's still a bit pricier than the "toy" drones out there but includes a lot of features you simply can't get in a toy.
Smaller Footprint – This drone is even smaller than the Mavic Pro making it a great choice for the traveling adventurer where space is at a premium.
Fun to Use – Let's face it… This thing is awesome and brings a level of excitement that tends to spread to those around you.
Capable – DJI didn't just release a toy. It released a workhorse that's fun to use. Decent flight time, feature rich, who wouldn't want this drone?
Let's Talk Features
How many features can DJI fit into such a tiny package? Turns out, the answer is, quite a few! Here's a list of what's packed inside this baby:
3-axis (tilt, roll, pan) gimbal – Although a different design from the Mavic Pro, this small drone still offers a 3-axis gimbal, giving you smooth steady shots.
GPS with GLONASS – Offers accurate location awareness. Coupled with available apps this unleashes quite a few possibilities.
Sensing System – I'm not sure how they did it but the Mavic Air has forward, backward and downward sensors which are used to detect distance to objects and for object avoidance.
Intelligent Flight Modes – Just like the Mavic Pro the Mavic Air offers intelligent flight modes. Both drones have many of the same intelligent flight modes but each offers modes the other doesn't.
32 MP Sphere Panoramas – This is one of the main features of the Mavic Air. It has a mode where it will take multiple shots that are then stitched together to create a 32 megapixel panorama with virtually no input needed from you.
Respectable Flight Time – The Mavic Air has a maximum flight time of 21 minutes.
Internal Storage – In addition to the microSD card you can insert into the drone it has 8 GB of storage built in allowing you to fly without a card or as a buffer should your card fill up.
Multiple Color Options – You can make it your own by selecting from white, black or red body colors.
Uses
Just like the Mavic Pro this baby can be used in a variety scenarios:
Realtor? – Get those bird's eye view shots to really make your property stand out.
Inspector? – Use the Mavic Air to avoid putting yourself in dangerous situations or to get to places that would otherwise require heavy equipment.
Cinematographer? – Get those shots that would otherwise require a chase vehicle and other costly equipment.
Thrill Seeker? – Take it virtually anywhere with you and capture those perfect action shots.
Regular Joe? – Just fly it. It's a thrilling experience you're sure to enjoy.
The possibilities are only limited by your imagination. What would you use it for?
How Does it Compare with the Mavic Pro?
This section is going to focus on the differences between the Mavic Pro and Mavic Air. Some may be of interest to you and some may not. Please glance over the list and pick out comparisons that do:
microSD Recording Speed or Bit Rate – This one is for the videographers out there. The DJI Mavic Pro is limited to 60 Mbps which has some people up in arms as it's slower than what 4k recording should require, starting an image quality discussion that I won't repeat here. The DJI Mavic Air bumps it up to 100 Mbps.
Size – The Mavic Air is quite a bit smaller than the Mavic Pro. The Air is 168 mm x 83 mm x 49 mm when folded compared to the Pro's 83 mm x 83 mm x 198 mm.
Props – The Mavic Pro has folding props whereas the Mavic Air does not.
Speed – The Mavic Air's top speed is 68.4 kph. The Mavic Pro tops out at 65 kph. Although a slight difference it's really not noticeable.
Max Flight Time – The Pro boasts a 27 minute max flight time compared to the Air's 21. This is a noticeable difference but can be mitigated with multiple batteries.
Pano Mode – Both drones offer panoramic modes. The main difference here is panoramas are processed on your controlling device (phone or tablet) on the Mavic Pro but on the Air they're actually processed in the drone itself allowing for arguably faster and higher resolution in the end product.
Obstacle Avoidance – Both drones offer obstacle avoidance however the Air will edge out the Pro in this category for 2 reasons… 1) It has rear-facing cameras which the Pro lacks allowing it to avoid obstacles when flying backward and 2) The Air has an Advanced Pilot Assistance System (APAS) which, when enabled, will allow the aircraft to navigate around an obstacle vs just stopping at it like the Mavic Pro currently does.
Remote Controller – Both drones offer a remote controller but the Mavic Pro will take the win on this category. The Mavic Air's controller has no display screen to show critical flight data. All of that information must be viewed on the controlling device's screen. The Mavic Pro's remote controller does have a display screen showing such information in an easy to see format.
Range and Service Ceilings – The Mavic Air has a maximum distance from the controller of about 4000 meters and a service ceiling of 5000 meters above sea level. The Mavic Pro blows the Air out of the water in the distance category, offering a maximum distance of 4.3 miles or 7 km but has a matching service ceiling of 5000 meters.
Camera Specs and Frame Rates – Again this is for the photo/video guys. This category is best displayed as a bulleted sub-list:

Sensor – Both offer a 1/2.3 CMOS sensor

Effective Megapixels – Air: 12, Pro: 12.35

Lens

Field of View – Air: 85 degrees, Pro: 78.8 degrees
35 mm Format Equivalent – Air: 24 mm, Pro: 26 mm
F-Stop – Air: 2.8, Pro: 2.2

ISO Range

Video – Both the Air and Pro offer a range of 100 – 3200
Photo – Air: 100 – 3200, Pro: 100 – 1600

Electronic Shutter Speed – Both aircraft offer 8s – 1/8000s
Image Size – The Mavic Pro only offers 4000 x 3000, however, the Mavic Air offers 4:3: 4056 x 3040 and 16:9: 4056 x 2280
Still Photography Modes

Mavic Air

4K Ultra HD: 3840 x 2160 24/25/30p
2.7K: 2720 x 1530 24/25/30/48/50/60p
FHD: 1920 x 1080 24/25/30/48/50/60/120p
HD: 1280 x 720

Mavic Pro

C4K: 4096 x 2160 24p
4K: 3840 x 2160 24/25/30p
2.7K: 2720 x 1530 24/25/30p
FHD: 1920 x 1080 24/25/30/48/50/60/96p
HD: 1280 x 720 24/25/30/48/50/60/120p

Bit Rate – Air: 100 Mbps, Pro: 60 Mbps
Formats

Photo – Both offer JPEG and DNG.
Video – Both offer MP4/MOV (H.264/MPEG-4 AVC)
If the DJI Mavic Air is a bit much for you, check out DroneRush.com's post: DJI Spark review – hand gestures and quick shots.
Conclusion
I hope this review has answered your question "What about the Mavic Air" and has confirmed that this is, indeed, a site for everything Mavic. It's tough to choose between the 2. You'll need to decide which factors are more important to you (size, distance, flight time, bit rate, color options) but in the end you'll most likely be happy with either option. I myself went for the Mavic Pro, however, that was before the Air was announced. That said, given the options today, I'd still select the Pro for myself as it fits my needs better.
I also have a post for Essential DJI Mavic Pro Accessories – The Must Haves. Some of the information applies directly to the Mavic Pro however many of the accessories apply to the Mavic Air as well or have versions for the Mavic Air.  The same is true of my DJI Mavic Pro Apps – My Top Picks post. Check them out.
DJI Mavic Air
If you feel I've missed anything, disagree with my list or have additional items you think should be included please comment below. I do review comments and, once approved, they will be visible on this post for others to see.
Thank you,
Scott Hinkle
MavicManiacs.com