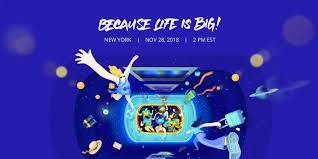 DJI Event – DJI Announces the Because Life is Big Event – Updated!
November 15, 2018
18
By
Scott Hinkle
We have another DJI event. This time the DJI announcement is for something called Because life is big! As with all DJI rumors, we really don't know what the event is about but we are more than happy to make educated guesses and just fan the rumor fires.
Let's see what we think is coming.
Update! – The event has happened.  How close were our guesses?  Check out my The DJI Osmo Pocket – Quite an Impressive Device post for more info!
THIS POST MAY CONTAIN AFFILIATE LINKS. PLEASE SEE OUR AFFILIATE DISCLOSURE FOR MORE INFORMATION.
What we Know
All we really know is what DJI has announced:
There's an event
It will be held at Good Morning America Studios in New York City
It's scheduled for November 28th, 2018 between 2 pm and 4 pm EST.
It's titled "Because life is big!"
The invitation simply states:
"DJI cordially invites you to join us for a special announcement on
November 28th in New York. We're excited to showcase DJI's latest
technology. we look forward to seeing you!"
When you click the link you're presented with:
"DJI is delighted to invite you to an exclusive event! From 2 pm to 4 pm at Good Morning America Studios."
And, after RSVP'ing, we simply get the following reply:
"Get Ready to Live Big!"
There's also an image, that we'll use to make some of our guesses as to what's coming:
That's it, nothing more. Frankly, it's a bit cryptic and very Apple-like but, it's exciting just the same.
What we Expect
With Christmas just around the corner, we're expecting that DJI is going to announce the DJI Phantom 5 series. With that release we're probably looking at increased camera resolution (think Hasselblad like the Mavic 2 Pro has or better, maybe even with a larger sensor, possibly with zoom ability) and all the bells and whistles that were introduced in DJI's other drones since the Phantom 4 Pro 2.0's release.
The reason we're expecting the Hasselblad with zoom is because of the image included in the announcement. Let's take a look at it next to the Hasselblad currently available on the Mavic 2 Pro:
You gotta admit, the pool-shape in the invitation image does resemble the Hasselblad camera and the whole, life is big wording, along with the depth of field/zoom like effect of the image, makes us think zoom is going to be a feature.
Granted these are just educated guesses but, they're on par for what would be expected of a major series number update.
What we're Hoping for
We're absolutely hoping for the Phantom 5 above but, as with anything, why stop there? First off my expectation of a zoom feature built-in may be off. It could be that DJI actually has a more modular approach and is going to offer interchangeable lenses. I'm kind of torn on this one. This theory would be supported by the following image, even though DJI discounted it as "a customized drone for designated users, not for sale":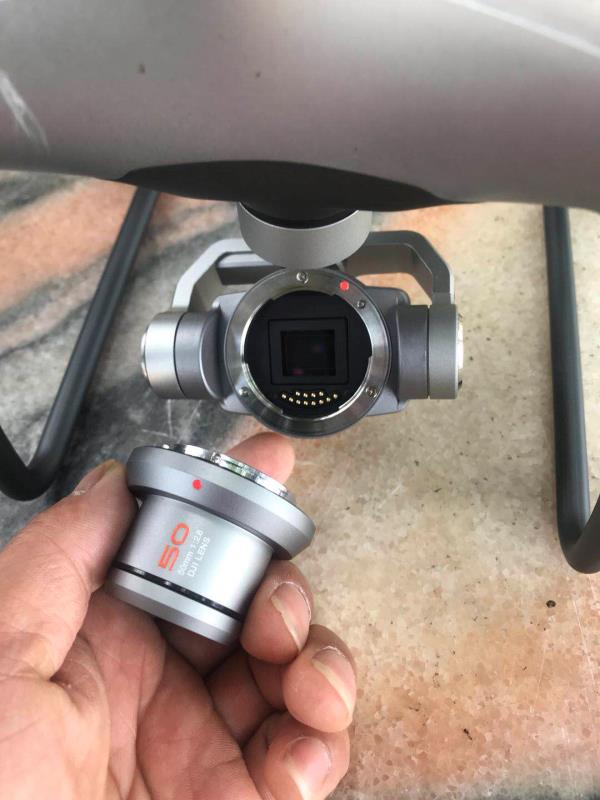 I don't like the idea of being locking into a specific field of view or zoom level for an entire flight and certainly don't' want to have to bring the drone back, changes lenses and get back into the air constantly.
I'm actually hoping that we get some sort of interchangeable camera system and, to really top off my wish list, have several options from a high quality camera with zoom features and interchangeable lenses to specialized camera options such as thermal and so on.
Another feature I'd love to have is, just like the Mavic 2 Enterprise, an accessory port to attach 3rd party devices for various uses.
Really the list could go on and on. Am I actually expecting all this, of course not, but any of it would be nice.
What do we Have to Back Up Our Expectations?
Short of what's in the invite imagery, common sense based on recent DJI drone releases and an expectation of improvements between line revisions, not much. Just rumor, speculation and the fact that the DJI Phantom 4 stock seems to be running out. Such is the nature of secretive tech companies. We simply won't know until they make the official announcement. Everything else is just a guess.
Update! – We Might Be Wrong!
New rumors are popping up with just days to go before the "Because Life is Big" event.  The announcement may not be a new drone at all but rather a new version of the DJI Osmo.  The latest talk suggests that the event might be for a pocket-sized device called the DJI Osmo Pocket.
Not much is known about this new device but, if we take a look back at the Mavic 2 image that was leaked, we'll see another device that, at the time, we thought might be a hand-held gimbal allowing us to use our drone's camera in other ways.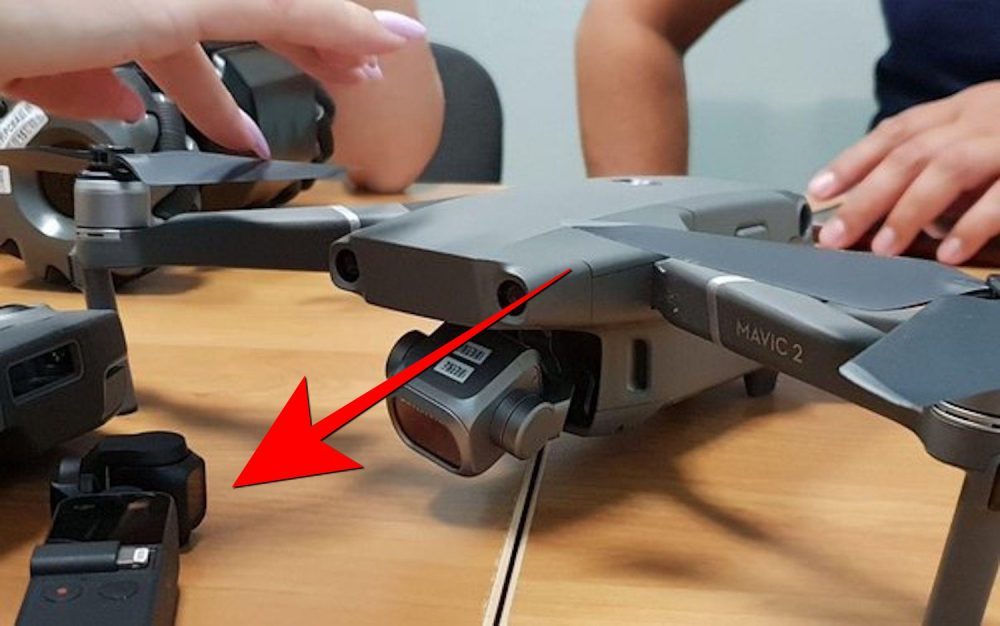 Now, with the latest photo leak, we're thinking it's a stand-alone, super portable stabilized imaging device.  This is further supported by reports of an FCC filing for a device called the DJI Osmo Pocket Wireless Module.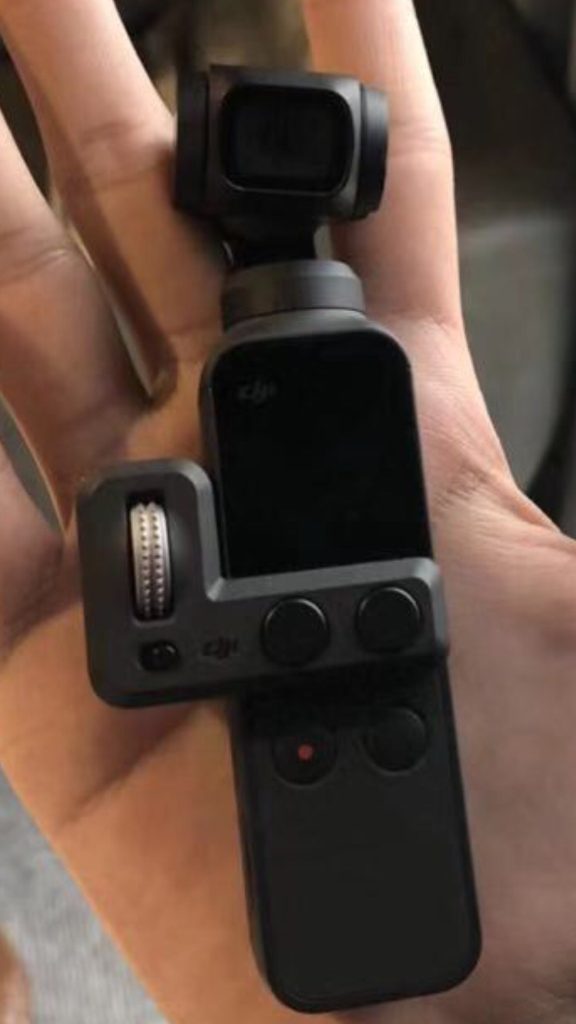 Conclusion
So, there you have it, another DJI event "because life is big!". Whatever that means. My expectations might be way off, we may not get a new drone at all but some other device.  That said, check out our other rumor posts and compare them to what was actually released and decide for yourself what our track record is:
DJI mavic Pro 2 Latest Rumors – How Many Versions Will There Be?
If it is the DJI Phantom 5, we're expecting the price to range anywhere between $1700 and $2500, based on currently available models such as the DJI Mavic 2 Pro.
What are your thoughts on this DJI announcement? Do you know something we don't? Are there any other DJI rumors out there that might pertain to this post? Do you have first-hand experience (maybe even happen to be a "beta" tester for the new device)? Do you just want to say something? Please feel free to leave a comment below. I read and respond to each one.
Thank you,
Scott Hinkle
MavicManiacs.com