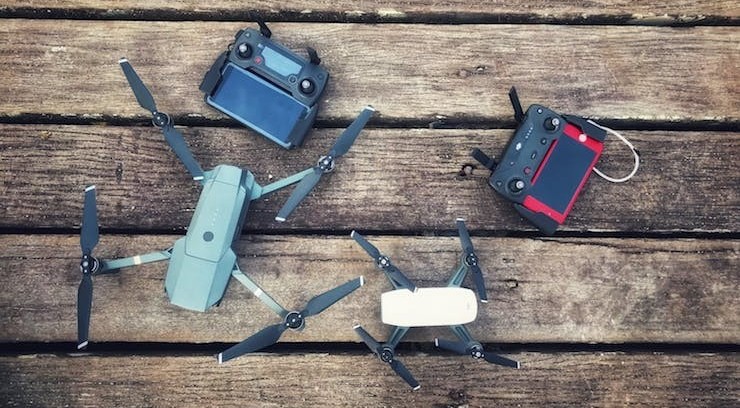 The Best Drones of 2019 – Which One is Best for You?
June 28, 2019
2
By
Scott Hinkle
So you've been considering getting a drone for some time but you're just not sure which one is best for you. This post is all about The Best Drones of 2019 and will help you narrow down the selection to the one that fits your needs best.
I'll cover drones for beginners, drones for photography and videography pros and those best suited for commercial and government needs. Areas such as movie professionals, technical farming applications (such as crop protection, seeding, watering, etc.) and so on will not be covered in this article. The focus is intended for consumers and prosumers in general.
By the time you finish reading this post, I hope you'll have a better understanding of each drone's capabilities and how they can fit into your fun time and/or workflow.
Just an FYI… Although this site is dedicated to All Things Mavic and might be slightly biased toward DJI in general, I'll not only be listing DJI drones but some competitors/other options as well. DJI may be the drone king but there are some pretty nifty non-DJI options out there to consider.
Now, let's get started…
THIS POST MAY CONTAIN AFFILIATE LINKS. PLEASE SEE MY AFFILIATE DISCLOSURE FOR MORE INFORMATION.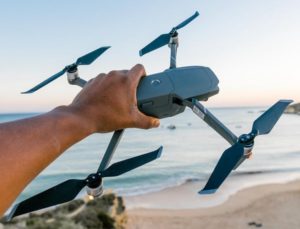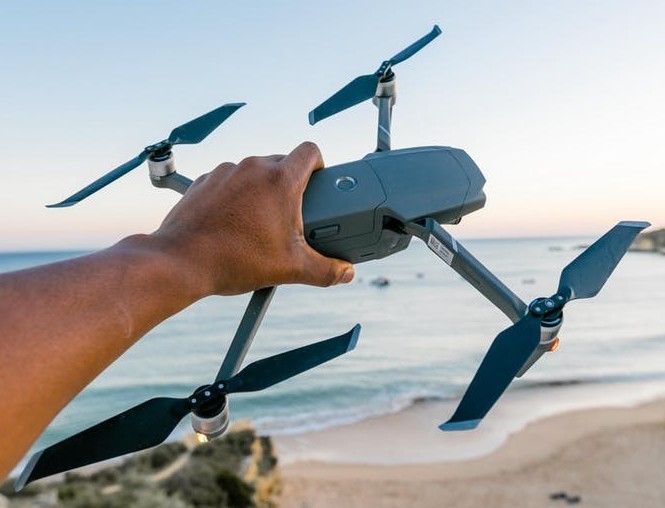 So, What are the Best Drones of 2019?
Well, best is a subjective term. It all depends on your intended use and what your interpretation of best is. Are you looking to fly in cold weather, start racing for fun and competition, perform crop inspections, create films, etc.? All of these factors play a role in determining what makes up The Best Drones of 2019.
To that end, I'll be covering several options that should meet most people's needs. I'll be diving into the offerings of DJI, Autel, and Yuneec, specifically and I'll toss a couple of names, that you might not have heard of, in as well.
One, if not more, of these drones, should be suitable for your needs. You just need to decide, which one fits best.
First up, The Best Drones of 2019 for beginners…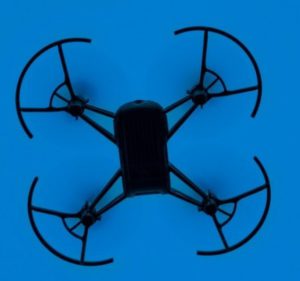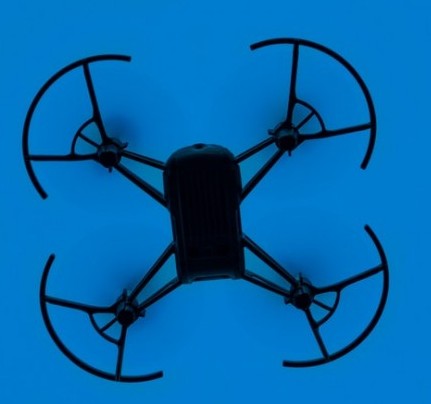 For Beginners
If you're just getting started in the drone scene, it can be daunting trying to figure out what to start with. I'm going to offer a few choices that cover budget-friendly drones for those new to the scene:
Ryze Tello
This drone was actually born from a partnership between DJI and Ryze. It's small, inexpensive and offers decent features for its price range. It's even programmable, for those interested in learning to program or applying their programming skills to an aerial platform.
Pros:
Small
Lightweight
Programmable
Inexpensive
Tricks – Thrown and Go, 8D Flips, Bounce Mode, etc.
Cons:
Fixed Camera (no gimbal)
Lower Resolution – 720P Video, 5 MP Stills
No Obstacle Avoidance
Short Flight Time – 13 Minutes
Limited Range – 100 Meters
Get it from DJI here or from Amazon below.
DJI Spark
This is the drone just before the Mavic line. The DJI Spark offers quite a bit more over the Ryze Tello as far as capabilities are concerned but that additional functionality comes at a price. Better flight time, gimbaled camera and higher resolution are just some of the features this drone offers.
Pros:
Gesture Control
Gimbaled Camera (2-axis)
16 Minute Flight Time
1080p Video and 12 MP Stills
GPS
Cons:
Limited Flight Time When Compared to Other Drones
Limited Obstacle Avoidance Directions
Limited Range
Check out my full review of the DJI Spark here: What is the DJI Spark – A Surprisingly Capable Drone
Get it from DJI here or from Amazon below.
Yuneec Breeze
Yuneec has been around for a while and, for some time, was considered the best alternative to DJI's offerings. Just like DJI, they have a beginner offering that offers a few bells and whistles including various modes and GPS.
Pros:
Compact
4K Resolution Video and 13 MP Stills
Multiple Flight Modes
Auto-Land and Return-to-Home Features
Cons:
12 Minute Flight Time
Fixed Camera (no gimbal)
DJI Mavic Air
This is the low-end in the DJI Mavic series (although many will argue that the image quality is better on the Mavic Air vs the Mavic Pro). Think of this bird as a DJI Spark on Steroids. It boasts a better flight time, higher quality camera, 3-axis gimbal and more.
Pros:
Compact and Portable
3-Axis Gimbal
3-Directional Environment Sensing
21 Minute Flight Time
4K 100 Mbps Video
Slow-Motion Video (1080P @ 120 fps)
HDR Photos
12 MP Stills
Intelligent Flight Modes
Cons:
Still, Not Quite as Long Flight Time (The bigger boys are around 30 minutes)
Transmission System Limits Overall Range
Price – Nearly Double That of the DJI Spark
See my full review here: What About the Mavic Air? – This is a Site for All Things Mavic Isn't it?
Get it from DJI here or from Amazon below.
These four Drones are great starter options. Still, if you think you might get into drones for more than just to check them out or have fun, you may want to consider one of the more professional (prosumer if you will) models out there. If you're already spending in the hundreds for a starter drone, it may make more sense to take that money and put it towards the drone you think you'll truly want down the line.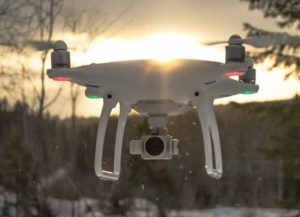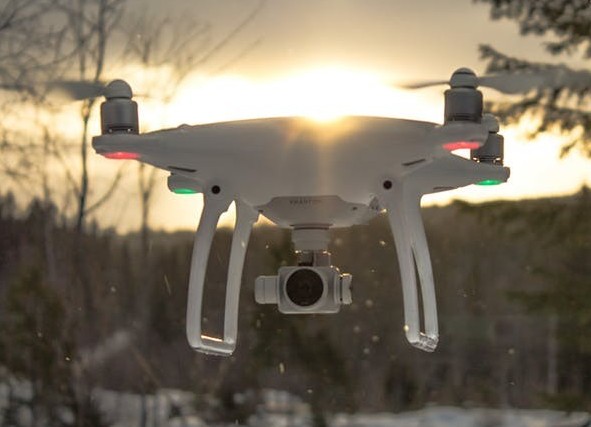 What About Photography and Videography Pros?
This is where the whole definition of best comes into play again. Are you just an average Joe, looking to take great footage or are you a member of a video crew for major film productions? Depending on your answer, the "best" drone for your needs will vary greatly.
This section will focus on drones for the average user and ramp-up to drones for the prosumer. I will not be covering rigs for the film studio professional as that's outside of my area of expertise.
DJI Mavic Pro/Pro Platinum
I love this bird. This is the one I actually have (the original Mavic Pro) and I use it on a daily basis. Yes, it's 2 years old but it's still going strong and keeps up pretty well with the newest offerings.
Pros:
Compact and Easy to Transport
3-Axis Gimbal
4K Video and 12 MP Stills
Intelligent Flight Modes
Occusync – Range and Reliable Connectivity
Excellent Flight Time
Obstacle Avoidance
Cheaper Than the Newer Models
Cons:
Not as High Resolution as Newer Offerings
Obstacle Avoidance is not 360°
Check out my full review here: What is the DJI Mavic Pro? – One of the Best Drones Ever!
Buy the DJI Mavic Pro directly from DJI here and the Mavic Pro Platinum here or purchase them from Amazon below.
DJI Mavic 2
This model comes in 2 versions, the Pro and Zoom. I've been champing at the bit to get a DJI Mavic 2 Pro myself but have resolved to hold out until next year as my DJI Mavic Pro is still going gangbusters. If you're going strictly for image quality, consider the DJI Mavic 2 Pro. If you have a need for an optical zoom feature then the DJI Mavic 2 Zoom is the bird for you. Either way, you won't be disappointed and DJI offers a camera swapping service so you can actually have both, albeit one at a time.
Pros:
360° Obstacle Avoidance
Hasselblad Camera with 10-bit Color and 20 MP Stills Resolution (Pro model)
2x Optical Zoom and 12 MP Stills (Zoom model)
Occusync 2.0 – Amazing Range and Reliable Connectivity
31 Minute Flight Time
Intelligent Flight Modes (Including the new Hyperlapse mode)
Cons:
Pricier Than the DJI Mavic Pro/Pro Platinum Models
Slightly Bigger (Yes completely portable) Than Its Predecessors
If you're in the market now for an exceptional, do it all bird, the DJI Mavic 2 series is the one to look at.
Check out my more detailed review here: The DJI Mavic 2 – The New Models are Finally Here!
Get either model of the DJI Mavic 2 directly from DJI here or get them from Amazon below.
Autel Evo
If there's a true competitor to DJI's Mavic 2 line out there, the Autel Evo is it. It offers comparable specs at a cheaper price. It doesn't have a Hasselblad camera or optical zoom but it still packs quite a punch when it comes to specs.
Pros:
Price – Just under $1000 (at the time of this writing) which is a significant saving over the DJI Mavic 2 series options.
4K at 60 fps and 720P at 240 fps
Recording at 100 Mbps
12 MP Stills
3-Axis Gimbal
30 Minute Flight Time
Controller Includes Built-in Screen
Cons:
I can't really give you a cons view as I haven't flown the craft myself. I'd like to get my hands on one of these to see how it really compares to the "standard" that DJI has set.
That said, you can check out my researched post comparing the Evo to DJI's current offerings here:
What is the Autel Evo? – An Amazingly Capable Contender for 2019!
You can grab one from Amazon below.
DJI Phantom 4 Pro V2.0
I'm actually only listing this particular model of the DJI Phantom 4 Series because I believe that it's the best option for the true photo professional. The one reason I consider this the one to go with if you're a professional is the mechanical shutter. If you don't need that feature, go with the DJI Mavic 2 Pro. That's it. Frankly, at this point, the DJI Mavic 2 series has replaced most of the other offerings DJI has, as far as the prosumer is concerned.
Pros:
Mechanical Shutter
1″ Sensor
20 MP Stills
4K at 60 fps
5-Direction Obstacle Sensing with 4-Direction Obstacle Avoidance
Intelligent Flight Modes
Cons:
Static Form – It does not fold up for easy transport.
Occusync – It doesn't have the newer Occusync 2.0.
Phantom 4 Pro v2.0 stock is extremely limited but there are some options from Amazon.  Follow the link below.
Yuneec Typhoon Series
As I said earlier, Yuneec has given DJI a run for their money for some time. DJI still seems to reign supreme in the consumer market buy Yuneec offers some great options. Currently, you can choose from three different models; the Typhoon 4K RTF, Typhoon H and Typhoon H Pro RealSense. All of these offer 4K options and have a nifty feature of being able to remove the camera and use a hand-held gibmbal for on-the-ground stabilized shooting.
Pros:
4K Video
Hand-Held Gimbal
Intelligent Flight Modes
Obstacle Avoidance (RealSense model)
Comparatively Cheaper than the DJI Options
Cons:
Flight Time – Less than DJI's offerings in the same class.
Bulky – Fixed, non-folding aircraft make it more difficult to travel with. Even larger than the DJI Phantom 4 series.
Although not as compact or portable as their DJI competition, these drones are quite capable and very stable.
You can pick up a Typhoon at Best Buy here.
Don't Forget Commercial and Government
So I've covered beginners, consumers and prosumers but what about corporate and government use? No problem, DJI has you covered there too.
If you're looking to perform inspections (radio tower, power line, roof, etc.). Consider looking at the DJI Mavic 2 Enterprise offerings. If you're in law enforcement, search and rescue, fire services, etc. or you have a need for thermal imaging to see heat levels (think pipe inspections, fire response planning – see those hot spots, crop health inspection, etc.), the Mavic 2 Enterprise Dual is the bird for you.
DJI Mavic 2 Enterprise/Dual
This drone was built for business and government use. The biggest advantage it offers is the ability to attach various accessories to it to address different needs. Currently, the accessory list includes a spotlight, speaker and beacon. These accessories can be used in various ways to meet the needs of a particular flight.
The Dual version offers a thermal camera in addition to the visible camera, allowing you to not only see normally but heat signatures as well.
Pros:
Accessories
Intelligent Flight Modes
2x Optical, 3x Digital Zoom (Enterprise model)
Thermal Imaging (Dual model)
Obstacle Avoidance
GPS Timestamping
Occusync 2.0
24 GB Onboard Storage
31 Minute Flight Time
Cons:
More Expensive vs the DJI Mavic 2 Models
Only Available for Purchase from Authorized Dealers (You can't buy it directly from DJI or Amazon)
You can see my more detailed reviews here:
The DJI Mavic 2 Enterprise – It's Finally Here!
DJI Thermal Camera – A New Mavic 2 Enterprise Model is Available
You can purchase the DJI Mavic 2 Enterprise/Dual from DynnexDrones here.
Conclusion
I know this post was a little long but I wanted to make sure that I listed The Best Drones of 2019 and give you a little bit of info on each of them.
I'd love to know if you have any of the drones I've listed here, plant to get one or have a suggestion for one I didn't list. Please let me know by commenting below. Also, if you see an error on my part or think I've missed a pro or con that should be included, let me know.
Thank you,
Scott Hinkle
MavicManiacs.com