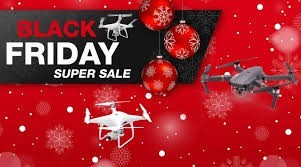 Black Friday Drone Deals – Get Them While You Can! – Updated!
November 12, 2018
14
By
Scott Hinkle
As with most things these days, there will be many Black Friday drone deals. This post is all about the ones we know going into the holiday sale as well as any last minute specials that creep up unexpectedly. Check here to plan your drone shopping spree and make sure you get them while you can.
If you're not sure which drone is best for you check out the following posts:
DJI Mavic – Which One to Choose
The DJI Mavic 2 – The New Models Are Finally Here!
The DJI Mavic 2 Enterprise – It's Finally Here!
We will also be updating this post during the Black Friday event with any last minute deals that are announced. Be sure to check back during the event for updates and to let us know if you've found a special we don't have listed yet.
THIS POST MAY CONTAIN AFFILIATE LINKS. PLEASE SEE OUR AFFILIATE DISCLOSURE FOR MORE INFORMATION.
Let's go directly to the source. What drone deals is DJI offering for Black Friday?
It's not just authorized resellers kicking off the holiday season. DJI has some offerings of its own with savings of up to $100. Check them out here:
Promotion Pricing Details
Check store.dji.com for pricing in local currency and applicable countries. Above prices are subject to change without prior notice.
DJI's Black Friday Promotion will be available on DJI's online store and flagship stores from November 18 00:00 (EST) to November 27 02:59 (EST). Customers can also get additional discounts by participating in a quiz during the campaign period receive daily coupons during the promotion by downloading them from the campaign page here:
What does Amazon have up its sleeves for Black Friday?
The bottom line is we don't know, yet. That said, DJI's deals will
probably be available on Amazon.com as well. I am providing links to
the DJI drones that should be on sale for Black Friday. Check back to
see if the prices drop as expected:
Are there any other places with good specials?
Although so far, nothing specific other than DJI's own announcement has been made we are expecting deals to be announced by the following retailers:
Adorama
B&H Photo
Dynnex Drones
Target
Wal-Mart
This section will be updated as more retailers release their Black Friday drone deals. Check back for updates.
What are the last minute Black Friday Drone Deals?
This section is all about the last minute, unknown, sales. Check back here during the Black Friday event to see updates as we get them.
Don't forget to grab your extra discounts directly from DJI here!
Udemy has a sale going on now.  Many courses are only $9.99 and, if you buy today, you'll get a free course on Cyber Monday!  Check out these titles:
UAS (Drone) Remote Pilot Test Prep for Part 107 Exam
UAS Drone Part 107 Remote Pilot Recurrent Course
Drone Masterclass: Your Complete Guide to DJI Drones
Phantom & Mavic Flightschool – flight training & Go4 app
Phantom & Mavic Filmschool 1- master autopilot with Litchi
Airspace and Charts for Part 107 UAS Drone Remote Pilots
Conclusion
Alright. You've got your list in-hand and are ready to hit those Black Friday drone deals. Make sure to get in early and get them while you can.
I also wanted to toss in another great Black Friday deal however, it's not drone related. I created this site using the training and hosting services provided by Wealthy Affiliate. If you have even an inkling of starting an online business, your own website or just want to know more about affiliate marketing, check out their Black Friday deal. You can sign up and check it out for free. If you decide it's not for you, that's OK, all it cost you was some time to check it out but, if you can see how WA can benefit you and want to go premium, their Black Friday deal is really the best! On a side, note, if you do sign up, free or premium, you'll have me as your direct mentor. Feel free to reach out, I'll be happy to help.
Update! – I just wanted to see if anyone took advantage of any of the deals above. l grabbed three of them myself, the one for Wealthy Affiliates, the FAA 107 recurrent course and one of DJI's. I ended up grabbing the DJI Goggles Racing Edition. What did you get?
Let us know what you end up getting by commenting below. If you see an error or find a deal we don't have listed, please let us know. We'll be happy to get it fixed or add it to our list. Now get out there and get your drones and related accessories!
Thank you,
Scott Hinkle
MavicManiacs.com