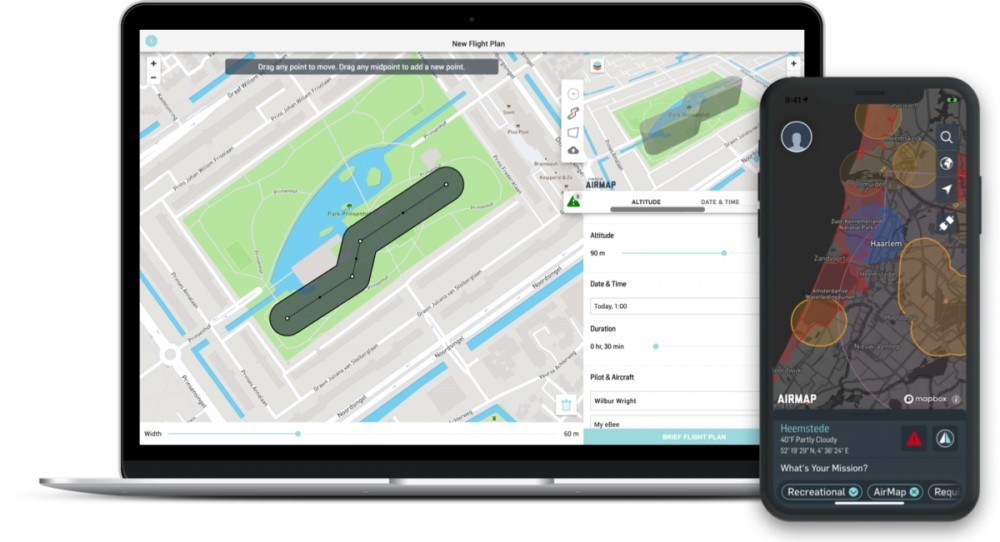 About the AirMap App – 8 Excellent Features Make it Keeper
August 9, 2019
I know that I've published my DJI Mavic Pro Apps – My Top Picks post in the past but that just listed various apps with no real in-depth review of what they do or how they work. Just a simple paragraph offering a very basic overview. Today I'm going to remedy that and tell you all about the AirMap App and why I put it on that list.
This is the first in a series of posts that I'll be writing, covering several apps that I recommend. In this one, we'll find out what AirMap is, decide if you really need it, talk about the features that make it special and even discuss alternative options that you might want to check out.
In the end, this post should give you quite a bit of insight into the app and help you determine if it's worthy of a spot on your phone, tablet or Smart Controller or if you should pass on it in favor of one of the alternatives or maybe even nothing at all.
Let's get started…
THIS POST MAY CONTAIN AFFILIATE LINKS. PLEASE SEE MY AFFILIATE DISCLOSURE FOR MORE INFORMATION.
So what is AirMap?
AirMap is a company that is dedicated to building an intelligent airspace network that keeps our skies safe for all users. They collaborate closely with regulators, authorities, industry, and citizens to help make this vision a reality. The AirMap UAS Traffic Management (UTM) Platform provides real-time snapshots of the airspace and all known aircraft, rules and restrictions.
AirMap has a web interface so you can use a lot of its features via your web browser. For the context of this post, AirMap is an app that will provide you with quite a bit of detail and options when it comes to planning and conducting your drone flights including; data on the current airspace and any restrictions that apply, allow you to request authorization to fly in controlled airspace, information on nearby airports, helipads and so on, information on other drone flights being conducted in the area (assuming the other pilot uses the AirMap service), known aircraft operating in the area, flight planning, and geofencing. It can even control DJI drones!
Think of it as an all-in-one solution for planning, authorizing and conducting your drone flights. Some people like an all-in-one solution and others prefer an app for a specific purpose (i.e. one for airspace knowledge, one for weather and one for drone control, etc.). I use it for the airspace and LAANC features. I still use DJI Go or AutoPilot/Litchi for actual drone control.
Now, let's find out if you need AirMap…
Do I Need It?
Unless you have another app that provides similar features, yes. There are a lot of airspace awareness and flight planning apps out there. You may not take advantage of all of AirMaps features but you're bound to find at least one that you'll discover you simply can't live without. It will really boil down to your specific needs and the feature set you desire.
That said, I actually have multiple apps that address airspace well. I still go to AirMap as my first pick when it comes to looking at the current airspace, any restrictions I need to be aware of and submitting my LAANC requests. One of the features I really like is that it has information on UAV laws in over 20 countries. This is great for the traveling drone pilot.
Now, the FAA and KittyHawk partnered up and released a new version of the Be4UFly app. I haven't really had a chance to look at it but it may be a contender when it comes to competing with AirMap. If that turns out to be true, I may return and update this post. Until then, AirMap is still my go-to app for my airspace and LAANC needs.
At the very least, I say put it on your device and try it out a few times. If you find it works for you great, if not, delete it.'
Now, let's see what features it offers and find out if one of them might change the answer to this section…
What's Special About the AirMap App (Features)?
OK, so what makes AirMap so special? For me, the top feature is the airspace data and LAANC request capabilities but let's take a look at everything AirMap has to offer…
Contextual Airspace Discovery
You can view information on airspace advisories, rules and weather conditions. You can even apply filters to only show the information relevant to your specific use case and situation.
Flight Planning
Enter the flight information including; path, altitude and so on. You'll be informed of any rules that apply to the airspace your flight plan is in.
LAANC Authorizations
Get virtually instant approval to fly in controlled airspace based on the flight plan information you've entered and your specific information (i.e. are you a part 107 certificated pilot, etc.).
Real-Time Situational Awareness
Receive traffic alerts for any known aircraft that may intersect your planned flight path. You'll even receive notifications to changed in airspace advisories (assuming your device has an active internet connection at the time).
Drone Control
Connect AirMap to your DJI drone and fly with confidence, toggling between the airspace and camera views. You can even use geofencing to help ensure you remain within the planned area.
Drone Mapping
Now, there are dedicated apps for mapping but AirMap still offers the feature. I haven't really tried it so I can't speak to how well it works. All I can tell you is that they have it.
Logging
Logs can be a critical component of a drone business or even just to help with insurance claims or provide proof to authorities, should the need arise. AirMap will log flights controlled by the AirMap app.
Insurance
Yes, AirMap has hopped onto the on-demand insurance bandwagon. Now you can pretty much do it all in just one app.
As you can see, AirMap has a lot to offer. Still, even if you don't use all the features, there's bound to be at least one that catches your eye. Let's see what competition is out there…
What are the Alternatives?
OK, so now you know what AirMap is and what it has to offer. What other apps are out there that might be a better fit for you? Let's take a look…
Be4UFly
So, this one is the one officially recommended by the FAA for checking airspace and whatnot. That said, it was terrible in its first iteration. They just released a new version, in partnership with KittyHawk, that's, from what I understand, a complete redesign.
I haven't used it since it's been updated but, I have to say "If the FAA recommends it, use it.". That way you can come back and say "Wait a minute. I used your app to check the airspace." if you run into any issues and the FAA comes knocking at your door. It's not fool-proof but it's something.
Hover
This one is all about airspace and weather. It offers a great layout/presentation of the data and is a top-pick for many drone pilots. It doesn't offer LAANC so you still have to switch to another application to get things done.
KittyHawk
This is probably the closest to an all-in-one solution that's currently out there. Weather, airspace maps, LAANC authorizations, active air information, flight logs and so on. If I were to answer the question of "What are the top two apps to use for drone pilots when it comes to airspace and features?" I'd have to say it would be AirMap and KittyHawk.
Keep in mind that the new version of Be4UFly was developed in partnership with KittyHawk so it may be the new go-to. I just haven't had the chance to evaluate it yet.
UAV Forecast
This one is just an honorable mention. It has nothing to do with airspace or LAANC authorizations but I love it for drone-related weather data. The presentation is excellent and all sorts of information is provided including; visibility, visible satellites and the Kp index. You just don't get this kind of data from most apps out there.
There is no shortage of apps for drone pilots out there. These are just the ones that get top marks consistently and that I personally use on my devices. Check them out and see if any work well for you.
Conclusion
So, now you know a lot more About the AirMap App. It really is quite impressive when you think about it. I do a lot of work for companies like DroneUp and DroneBase. AirMap is the first app I open when I get on-location. I know, I should really do it before I leave but I always end up doing it on-site.
Now I'd like to hear what you think About the AirMap App. Do you use it? Will you be downloading it now that you've read this post? Did I miss a feature you think should be included? Do you use one of the alternative options? Is there an alternative I missed? Please let me know by commenting below. I'd love to hear what you have to say.
Thank you,
Scott Hinkle
MavicManiacs.com