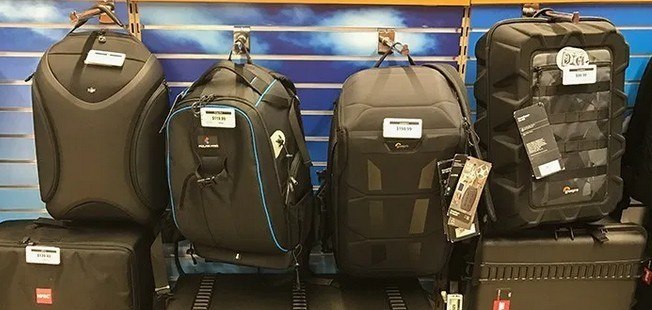 Find a Drone Bag for Your Drone Model – 6 Excellent Picks for 2019
September 26, 2019
14
By
Scott Hinkle
Let's see if we can Find a Drone Bag for Your Drone Model, shall we?
When it comes to drones, equipment and accessories can quickly add up. Storing and transporting these items becomes a concern, and doing so while offering convenience and protection can be a difficult request to balance. I myself have three different bags for my DJI Mavic Pro; the one that came with the Fly More Combo, one that I bought to carry it and additional accessories I accumulated along the way and the one designed by DJI for the Mavic Pro and the DJI Goggles Racing Edition.
Granted, each bag filled a need at the time of purchase. As my arsenal grew, so did my need to be able to carry and store it all in one place. You may find yourself in a similar situation so, if possible, try to plan ahead and get the bag that you think you'll need, not just the one that fits your needs right now. I will save you a little money in the long run.
Today, we're going to look at more than one drone bag for various models and accessories that will offer protection, storage, and transport options. We'll look at why we may want to consider a drone bag for our drone in the first place, some options and features to look for, whether you should opt for a single bag solution or look into a multi-bag option, list a few of my top suggestions and wrap it up with an overall opinion and request for comments.
Let' get started…
THIS POST MAY CONTAIN AFFILIATE LINKS. PLEASE SEE MY AFFILIATE DISCLOSURE FOR MORE INFORMATION.
Why Bother to Find a Drone Bag For Your Drone Model?
There are actually several reasons to consider a drone back for your drone model:
Protection
First and foremost is protection. Transporting and storing your drone and its accessories can be cumbersome, especially if you're just doing it all by hand. Carrying the drone itself can be delicate work, especially if the props are attached or the camera gimbal lock is not in place. By using a bag, everything is contained and secure (usually) as you move or store it.
Convenience
I have a lot of pieces that make up my drone flight experience. If I were to transport it all by hand, it would mean multiple trips from point A to point B. One for the drone and remote, another for my tablet and phone (although the phone could be in my pocket so really just my tablet) and one or more for my other accessories (launching/landing pad, extra batteries and so on). If I use the appropriate bag, I can narrow that down to one trip.
Comfort
Most bags come with a shoulder strap or in a backpack form, making it easy to transport everything comfortably. Imagine having it all tossed in a box. Now you have to lug that thing around and, depending on how heavy it is, support it with your hip or belly as you move from one point to another. I stopped using storage boxes and crates after scraping my hands between a box and doorjamb when moving between rooms. It's just not comfortable and convenient.
I'm sure there are other reasons, but those three are the top ones in my book. Now, let's consider options to look for…
What Options and Features Should You Look For?
When it comes to selecting the right bag for your needs, there are several things to consider:
Capacity
There's nothing worse than choosing a bag that's insufficient for your needs. Here are some questions to answer when selecting an appropriate bag:
Is it big enough to carry everything you think you'll need regularly?
Does it have a little extra room for item X, on the rare occasions you need it?
Organization Capability
You don't want just an open bag with no pockets or separators. Everything would just become a jumbled mess and knock into each other during transport. When looking at bags, look for ones that have either fixed or adjustable dividers (preferably padded) and pockets for smaller accessories that you may not need immediate access to every time you fly (think extra props, spare cables, etc.).
By separating everything and organizing it in a way that makes sense to you, you'll not only protect the contents but be able to ascertain your current flight capacity and see what you're missing/need.
My bag is organized by need and type. My drone, controller, landing/launching pad, and batteries are all in the main zippered compartment and visible instantly when I open the bag. I can see if I'm missing any batteries and if my drone is adequately secured. In my other compartments are spare cables, extra props, additional storage cards and so on.
Build Quality
This bag is going to hold a substantial investment in equipment. You want to make sure that it's construction is top-notch. I'll be honest with you; I don't use both backpack straps most of the time. That means that the one strap I do use needs to hold the weight of the entire setup contained within and handle a little rough treatment too.
Look at the stitching, compare materials. Yes, you can get a cheap bag but will it hold up?
When looking at the materials, consider your expected use cases. Will you be in damp or rainy conditions? If so, make sure your bag is waterproof/resistant or has a cover you can deploy to protect it and its contents.
Features
Some bag manufacturers think of the little things most of us don't even know we might want. Recently they've been adding small paths you can use to run a charging or headphone cable through so you can charge a device or listen to music on a device still in the bag (assuming you don't already use Bluetooth headphones).
Others have come up with a modular system, where you can mix and match different case components and quickly attach and remove them from the main bag. This can be great for someone who has both a drone and a DSLR camera. Your bag may have one module for the camera and another for the drone that can be removed separately from the whole and deployed quickly, etc.
It's pretty amazing when you step back and see what some of these bag manufacturers have come up with. Now, let's take a look at the single vs. multi-bag debate…
Should You Select a Single Bag or a Multi-Bag Option?
There's a small debate on whether you should consider a single, carry-all bag or go with multiple bags for your setup. My response is to use what works best for you. I tend to be an organized person. I might even spend more time organizing then I do actually using whatever it is I'm organizing. Some have called me anal-retentive.
I'm OK with that. I have the type of personality where I feel more comfortable knowing where everything is and being able to find it and access it quickly.
Single Bag
I tend to have a single-bag approach to my drone needs. I suffer from a condition (I don't know what it's called) where I fear that I might miss an opportunity because I don't have everything with me. That's why I take that one-bag approach and why I have three bags for my drone.
At first, I used the bag that came with my Fly More Combo. It held everything; the drone, extra batteries, cables, remote controller, additional props, even the charger! After a while, I started adding accessories; launching/landing pad, multi-charger, etc. My bag couldn't carry all of that anymore, so it was time for a new one that could. That was bag number two, and I was once again happy that it all fit in one bag.
Then I bought the DJI Goggle Racing Edition. Guess what that meant. Yep, new bag time. This is why I recommend you pick the bag you plan to need and not the one you need right now.
Multi-Bag
There's something to be said for the multi-bag setup too. If you're not like me, and you don't think you'll miss out if you don't have everything with you, you can organize your drone setup based on the use case. What I mean by this is, say you don't plan to use the first-person view that the DJI Goggles offer. Great, place that device, and its related accessories into a different bag. Now, you'll have your primary drone bag and your goggle bag. If you need to use the goggles, you just grab two bags, and you're good to go.
This is a great way to store setups for various endeavors. In fact, it might be better than the one-bag approach for some. Let's say the DJI Goggles have a ton of accessories. Now you can keep the goggles and related accessories together yet separate from your other drone accessories. Sort of like each bag is an organizational container for a specific use case.
I hope this comparison helps you decide what would be best for your needs. Either way, you go, you really can't go wrong.
My Top 6 Picks
Now it's time to take a look at a few bags that you might want to consider for your drone setup. These are bags that offer various solutions that meet one or more of the criteria listed in the What Options and Features Should You Look For section above.
The bags I list here will focus on the DJI Mavic line and below. This includes the Mavic Enterprise, Mavic 2, Mavic Pro, Mavic Air, Spark, and Tello series. That's not to say they won't work for other drones. I know they'll work for Autel's Evo, for example, but some drone models, like the Phantom series, require specific storage capabilities (i.e., properly shaped foam compartments).
It should be noted that many of these manufacturers will also have bags for other models. If you do see one you like, but need it for a different drone model, check out the manufacturer's website and see if they have an offering to fit your specific needs.
DJI Mavic Bag
I'm listing the DJI Mavic Bag first because this was the first bag I got. It's the one that comes with the DJI Mavic Fly More Combo and is an excellent choice if you're looking for a compact (and I do mean compact) bag that you can pretty-much carry anywhere. The trade-off is that it can only hold so much.
iEago RC Mavic 2 Carrying Case
I chose this bag for its compact size, hard shell, and cut foam interior. It has places for the drone, controller, three extra batteries, and more. If you like the idea of foam protection, this just might be your bag. It also boasts that it's waterproof. Please note this one is for the Mavic 2 series only and actually states, "Not for Mavic Pro." That makes sense since the foam cut-outs are specifically for the Mavic 2 series.
Endurax ShellX P01
This is an excellent option for those of you that want to carry it all. Not only is it waterproof, but it boasts mixed soft and hard shell protection. This company also thought of the little things that make attaching accessories and 3rd-party offerings a breeze.
Estarter Travel Drone Backpack
Here's an offering that smaller than most backpack-style solutions but offers a lot more room than the DJI bag listed above. It's also waterproof and offers quite a bit of storage.
Estarter SLR/DSLR Camera Backpack
Don't let the name fool you. This is an excellent bag for drones as well. Think of it as the more substantial offering from Estarter. The backpack/shoulder bag above is great but, if you need just a little more room, this backpack should have you covered.
Lowepro DroneGuard BP 250
Lowepro is no stranger to photographers. They've been making great gear bags for a very long time. Now they're entering the drone market, and they've brought their experience with them. This is a great all-around drone backpack that offers excellent protection and can even hold your tablet and laptop!
These are not the only bags available to you but should give you a decent idea of what's out there. If you feel one of the above fits your needs, please follow the link I've included and buy it from Amazon. If not, keep looking. There are so many bags out there, finding the perfect fit, should be achievable.
Conclusion
So, there you have it. Why you might want to consider a drone bag, options, and features to look for, single bag or multi-bag and five good selections to choose from. I hope this post has helped you Find A Drone Bag For Your Drone Model. At the very least, it should have given you a few things to think about.
I'd love to hear your thoughts on the whole drone bag thing. Is there a consideration I didn't list here? Is there another bag that you think should make the list? Do you happen to have one of the bags I've listed above?  If so, what do you think of it?  Where do you stand on the single vs. multi-bag debate? Let me know by commenting below.
Thank you,
Scott Hinkle
MavicManiacs.com