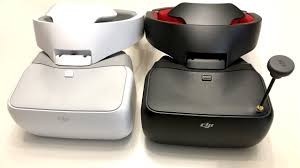 Review – DJI Goggles Offer an Intense Experience – 5 Practical Uses for Them
March 15, 2019
10
By
Scott Hinkle
You've probably already seen my Essential DJI Mavic Pro Accessories – The Must Haves and DJI Mavic 2 Accessories – The Essentials posts. You might have noticed that the DJI Goggles were not among those listed. This wasn't simply because I don't recommend them. It's because I won't recommend something that I haven't tried out myself first. Those posts were written before I had a chance to experience DJI Goggles for myself. Now that I have, I plan to go back and add them to those lists (I may have already done so by the time you read this).
I've wanted to get the DJI Goggles, ever since they were announced. Sadly, budget constraints kept me from doing so. In a way, the lack of funds actually saved me from getting the original setup, as it wasn't long before DJI released the DJI Goggles Racing Edition with better specs.
Finances aside, the Black Friday sale came and I knew what I was going to get for Christmas. Now that I've had mine for a few months, it's time for me to write a review. Had I gotten the original DJI Goggles, I suspect my review would be a bit different than it is today. Let's take a look at how they work, what I like and what I don't like about the DJI Goggles.
THIS POST MAY CONTAIN AFFILIATE LINKS. PLEASE SEE OUR AFFILIATE DISCLOSURE FOR MORE INFORMATION.
What's so Special About the DJI Goggles?
Actually there are a few things that I think make the DJI Goggles (and especially the Racing Edition) special:
It's an entertainment solution – It's not just for drones. You can watch movies, play video games and so on. Think of it as a large screen TV for all your entertainment needs. You can also play back panoramic images, simply tilting and turning your head to view it as if you were standing right there! I already plan to use this on vacation to watch movies uninterrupted on long flights. You can buy a pair of these and never end up using them with your drone and still get a great sense of value from them.
Gimbal control – The goggles can be used to actually control the gimbal. Imagine not having to worry about using the dial to tilt the camera up and down. You can simply tilt your head and have the camera respond in kind. With the DJI Goggles you can even pan left and right (something I haven't been able to do manually with my DJI Mavic Pro)!
Drone control – Change settings, control the flight, even use your head movements to steer the aircraft. It's quite an experience, even if it's a bit awkward at first (It took me a few minutes to get the hang of it with just my head movements).
Connect a second pair – Want to offer a first person view (FPV) of the flight to a spectator? You can connect a second pair of DJI Goggles and allow them to fly alongside you.
Controller & goggles simultaneously – I'm a more tactile kind of guy and prefer the feel of the joysticks when I fly. That's not a problem. I can control the aircraft with my remote controller and either use the DJI Goggles simply as a view screen or I can set it to control direction with my remote controller and use the goggles to control the camera's pan and tilt functions.
MicroSD – The goggles have the ability to record to a microSD card so now you can record on your drone and on your goggles (the Racing Edition can record the screen view. The original DJI Goggles can only download files from the aircraft to the card). Use this for redundancy or maybe as additional storage for days when you find you've filled up the card on your drone. Just keep in mind, recording on the drone will always be the top quality image and what you're recording on your goggles will be 1080p at it's best.
I'm sure there's more but those are the ones that come to mind off the top of my head as I write this review. If you have a pair of the DJI Goggles and you think another feature that makes them special should be listed here, please let me know by commenting below. I'd be happy to update this list.
Besides the Cool Factor, What are Practical Uses for the DJI Goggles?
First off, I have to say they eliminate the glare and reflection issues that are common with using your phone or tablet and your controller. Since you're basically immersed in the headset, there's no external light source to cause the issues in the first place. As for practical uses, I can see the DJI Goggles being used in a variety of ways:
Inspections – Because the high resolution screens are right there, giving you the experience of a much larger display, the DJI Goggles are a great tool for performing inspections. Be it a roof, power line, oil line, windmill or other inspection, you just get a level of detail that's hard to make out on a phone or tablet.
Drone Racing – I'm not into the sport myself but, in order to get the proper view and spacial awareness needed to compete, FPV is basically a requirement. With the low latency, multiple frequency and external antenna options on the DJI Goggles Racing Edition, they are a perfect match for the sport.
Immersion – Let's face it, flying a drone is fun and addictive. Doing so from a first person view perspective gives you a whole different experience. It's one thing to fly as the pilot in command, from your stationary viewpoint. It's quite another to feel as if you're on the aircraft itself.
Focus – The DJI Goggles help you to focus by eliminating one of the most common distraction elements; objects in your field of view. Let's say your aircraft is flying 200 feet in the air and is approximately 1000 feet away from you horizontally. You need to be aware of your aircraft's surroundings and so on but, what about the people walking near you that are still in your field of vision or someone tossing a Frisbee nearby that constantly distracts you as you think it may hit you when it comes just inside your peripheral vision? The goggles eliminate those external elements, allowing you to focus on the flight operations better.
Fun – They're just plain fun to fly with. I can't really describe it any better. Rent or borrow a pair from a friend and just try it. You'll see what I mean.
What Are the Specs and Why is the Racing Edition the Better Choice Over the Original Model?
So, DJI released a pair of goggles, and they did pretty well. Why did they release another model so soon and what makes them better? Let's take a look at the specs for each and compare them along with the features (these specs were pulled directly from DJI's site here: DJI Goggles and DJI Goggles Racing Edition):
DJI Goggles
Weight
Goggles: 495 g

Headband: 500 g

Dimensions
Goggles: 195×155×110 mm

Headband(Folded): 255×205×92 mm

FOV
85° (single screen)
Screen Size
5 inch×2
Interpupillary Distance Range
58 – 70 mm
Refresh rate
60 Hz
Screen Resolution
3840×1080 (single screen: 1920×1080)
Operating Frequency
2.4 GHz
Max.Transmission Distance
Same as the aircraft connected
Video Downlink Resolution
1080p 30, 720p 60, 720p 30
Video Downlink Latency

(Near field and free of interference)

110 ms (Mavic Pro, 720p60, video format: 720p120)

150 ms (Phantom 4 Pro/Advanced series, 720p60, video format: 720p60/720p120)

167 ms (Phantom 4, 720p30, video format: 720p60)

140 ms (Inspire 2+X5S, 720p60, video format: 1080p120)

190 ms (Inspire 2+X4S, 720p60, video format: 1080p60)

Battery Capacity
9440 mAh
Battery Energy
35.44 Wh
Max Operating Time
6 hrs
Operating Temperature Range
32°F (0°C) – 104°F (40°C)
I/O Interface
Micro USB, 3.5mm audio jack,

HDMI type-D, Micro SD card slot

HDMI Supported
HDMI 1.4b, HDCP 1.4
Sensors
Gyroscope, Accelerometer, Proximity sensor
Charger
Input: 100-240VAC, 50/60 Hz. 0.5A

Output: 5V,3A ; 9V,2A;12V,1.5A
DJI Goggles RE
Weight (Typical)
DJI Goggles RE Body: 502 g;

Headband: 500 g

Dimensions
DJI Goggles RE Body: 195 × 155 × 110 mm;

Headband (folded):255 × 205 × 92 mm

Screen Size
5-inch × 2
Screen Resolution
3840 × 1080 (single screen: 1920 × 1080)
Transmitter Power (EIRP)
2.4 GHz:

25.5 dBm (FCC); 18.5 dBm (CE); 19 dBm (SRRC)

5.8 GHz:

25.5 dBm (FCC); 12.5 dBm (CE); 18.5 dBm (SRRC)

Live View Modes
1080p30, 720p60, 720p30
Video Format
MP4 (H.264)
Supported Video Play Format
MP4, MOV, MKV

(Video format: H264; Audio format: AAC-LC, AAC-HE, AC-3, DTS, MP3)

Battery Capacity:
9440 mAh
Operating Temperature Range
32° to 104° F (0° to 40° C)
Charger Input
100-240 VAC, 50 / 60 Hz, 0.5 A
Output
5 V 3 A / 9V 2A / 12 V 1.5 A
The first spec that's a little different is the weight. The Racing Edition is just a hair heavier than the original model.
The operating frequency is a big one. The original DJI Goggles only offer the 2.4GHz frequency whereas the newer Racing Edition offers 2.4 GHz and 5.8 GHz. This, along with the redesigned internal omnidirectional antennas, give the Racing Edition an edge and the ability to choose from more channels to provide the best connection possible.
Perhaps the biggest difference of all is the latency. The original model has a latency of 110 ms. The newer edition has cut that to 50 ms. This is huge for anyone needing a quick, near real-time, video feed.
What Do You Like and Dislike About the DJI Goggles?
There's quite a bit to like about the DJI Goggles:
I love the experience, hands-down. There's just something about being immersed in the experience. It's like I'm on the aircraft.
The lower latency that the Racing Edition offers really does a great job with the action to response feel
The and the ability to control my camera, simply by turning and tilting my head, just makes it that much better!
Dual controller/goggle connectivity offers flexibility, allowing you to create the setup you need for the job at hand.
There are some things to dislike as well:
The goggles are a bit awkward at first. It takes a little practice to get used to using them.
Over time, the weight of the headset can cause discomfort. If you're flying for a short period, it's not an issue but, if you're going to be conducting multiple flights, back-to-back, it can become uncomfortable.
For what they do, the DJI Goggles are an amazing engineering feat in a small package. That said, the package is still a little bulky and doesn't fit into your drone bag easily. I even bought the bag for the goggles and found it awkward to pack at first.
Some may consider the goggles pricey. They cost more than a DJI Spark, almost as much as a DJI Mavic Air and half of what I paid for my DJI Mavic Pro.
Do you have experience with either version of the DJI Goggles? Do you have an opinion on what you like and don't like about them? Please share it here by commenting below.
Conclusion
So, as you can see, I waited to get my DJI Goggles, mainly because I had to, and was finally able to grab a pair of the newer Racing Edition during the Black Friday sale. I think they're great and a lot of fun to use. Do I recommend them? Absolutely. Do you need them? No. Will they make your drone activities safer, better, more enjoyable? I really can't say. I think so but, in the end, that's a decision you have to make for yourself.
I will say this… If you plan to use the DJI Goggles during your flight, get a visual spotter to work with you. It can be a friend, fellow pilot, anyone really but you should have a way of keeping a visual line of sight with your drone and make sure the flight is conducted safely. Obviously, maintaining a visual lock on your drone yourself, while wearing the goggles, is not possible.
I hope you found this review on the DJI Goggles helpful. If you have a comment about this post, additional information you think would be helpful to readers or just want to share your experiences with the DJI Goggles, please comment below. I read and respond to each one.
If you're ready to grab a pair of your own, you can click on the link here to be taken to Amazon and purchase them:
Thank you,
Scott Hinkle
MavicManiacs.com