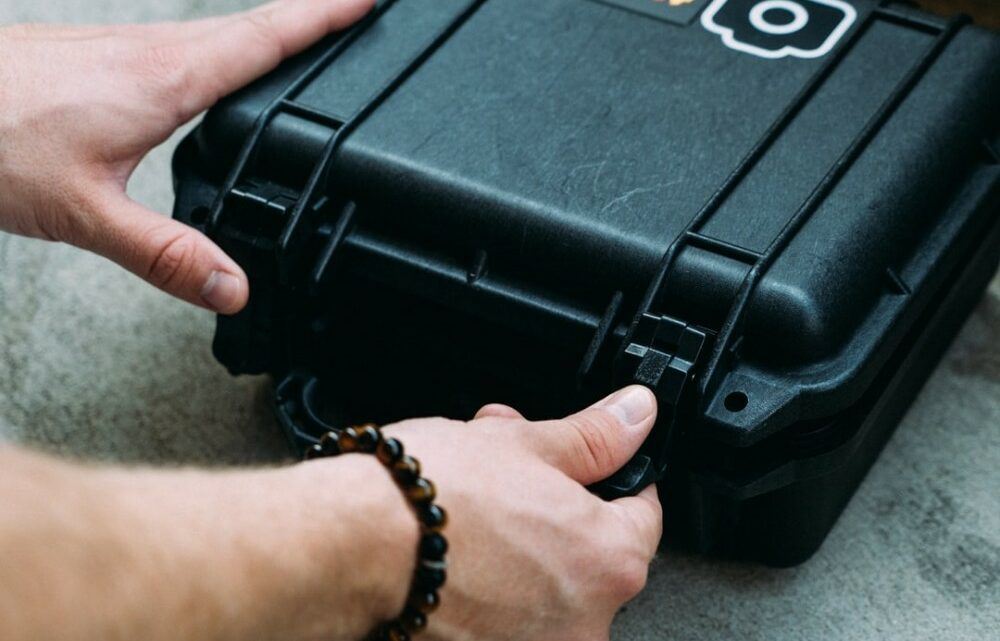 What Drone Case For Your Drone Should You Buy? – 6 Great Options for 2019
October 3, 2019
4
By
Scott Hinkle
Some people prefer soft bags when it comes to storing and transporting their drones and accessories. Others prefer a little more robust protection. It really boils down to professional needs and personal preference.
Last week we took a look at some drone bag options in my Find a Drone Bag for Your Drone Model – 6 Excellent Picks for 2019 post. Today we're going to look at several hard-shell drone cases for multiple drone models and pilot preferences. There are soft cases as well but I've already recommended one such case in my bag post.
We'll discuss why you might choose a drone case for your drone in the first place, what options and features you might want to consider, if the case should fit everything or just certain items, look at my top 6 picks and wrap it up with an overall opinion and request for comments.
Please note, the bags I recommend here are mainly for DJI drone models.  That said, many of these manufacturers will have options for various drone brands.  In the end, I hope that the information presented here helps you narrow down your want/need list and maybe even provide you with the case that meets your exact needs.
Let's get started…
THIS POST MAY CONTAIN AFFILIATE LINKS. PLEASE SEE MY AFFILIATE DISCLOSURE FOR MORE INFORMATION.
Why Choose A Drone Case For Your Drone in the First Place?
Just like I said in my drone bag post, there are several reasons to consider a drone case. Here are just a few, however, this is not an exhaustive list and I'm sure there are plenty of other reasons that you can come up with:
Organization/Convenience
Let's face it. It's not just the drone you have to worry about. There's the remote controller, extra batteries, the charger, and additional accessories. A drone case is a great way to keep it all together yet organized. Better yet, you can grab it and go, knowing you have everything you need for the mission at hand, assuming you keep it in a ready state.
Protection
Having an extra layer between your drone and potential hazards is a no-brainer. Hard-shell cases tend to offer the best impact, and many are water-tight as well.
Professional Look
Come on. When you see someone lugging around hard-case equipment, you just automatically think professional. Slap a few pro-looking decals and it's a done deal. Now, if you want to really look the part, set up the case with a monitor and whatnot and turn it into, not only a storage/carrying container but, a command and control center for the drone itself!
I'm sure you can think of other reasons that a drone case for your drone makes sense. Any way you spin it, they're a good investment.
Now, let's talk about options and features…
What Options and Features Should You Consider?
A case is not just a case. There's a lot to consider when comparing the various options available. Let's take a look at some you might want to keep in mind…
Size and Capacity
This is actually a multifaceted option to consider. On one-hand, you want to be able to fit everything you might need for a mission into one convenient package. On the other, that package has to fit you, the mode of transportation and whatever other limiting factors may arise.
Now, if you're driving to the location in your giant SUV, you probably have the room to take a big case. What if you're flying to your destination? Are you going to want to check your expensive baby? Probably not. You'll more than likely opt for the overhead bin or under the seat in front of you option. The case you select needs to fit within those confines.
Above all, it should at least hold your drone, remote controller, spare batteries and must-haves like additional props. Another thing to keep in mind… Buy for your planned use, not your immediate need. This will save you a little money down the road when you begin to buy additional accessories and need more storage. Sadly, I didn't think ahead when I started out and ended up buying bag after bag (yes I use bags mostly) as I built up my accessory trove.
Weight
Don't forget, with size comes weight (usually). Construction material, features and so on can make a huge difference too. Carbon fiber is going to be lighter than hardened plastic or metal. Simple enhancements, like a gas strut to make opening and closing the lid effortless, add weight too.
Don't let your eyes bite off more than you're physically able to handle. Sometimes it's better to select more than one case to handle everything.
Build Quality and Material
Don't go cheap for cheap's sake. Do a little research and be sure you're buying something that will last. Look at case material, latches, hinges and so on. If you take the time, you can find great, high-quality cases to meet your needs.
Options/Features
After you've looked at everything else, then take the time to look at bells and whistles. Yes, the gas strut is nice but do you need it? Will it take away from your storage capacity (after all the strut takes space too)? What about weight? Does it make the case just a bit too heavy?
I can go on but I think you get the gist of it. Consider the features that you really want and weigh them against the trade-offs. I'm not saying don't get them, just be sure they fit your needs from all angles.
Some options to consider are:
Built-in lock – (combo, electronic, biometric, etc.)
Water-resistance/proof
Built-in battery (maybe you can use it as a charging station) – Just be careful here. Especially if you plan to take it on a plane as checked luggage.
Modular configuration (Can you reposition dividers and so on to make the interior your own?)
Actual protection provided (Is the case just a hollow shell? Is there foam padding? Is the shell too thin to really protect anything of value?)
I'm sure there are other features and options you might want to have. One I can think of would be a pass-through port for power, assuming I was planning to set it up as a command and control station.
Should It Fit Everything?
I see this all the time and I've even been one of these guys… I want it all and I want it in one place. This mentality may work for some. Others, like me now, prefer to organize by use case.
When I first started, I was of the bring it all, you never know what you might need mindset. That actually still holds true for most of the mission I fly, to a degree. The extra things like my DJI Goggles aren't really necessary in most cases. Rather than haul all that extra weight and equipment, I've started to segment my gear into use case-based bags and cases.
If I'm flying local or heading to an event to promote drone awareness, yes, the goggles come with but, if I'm off to do a job for a farmer or take imagery for a realty agent, chances are I won't be needing the goggles and can leave them behind. This is even more beneficial when traveling by airline. There are restrictions as to how many batteries you can carry and so on. The goggles just add to that limit.
Now, I can just grab my primary case for most jobs and, if a job warrants it (or I just want to have a little fun), grab both cases, or my primary case and goggle bag, and I'm good.
In the end, only you can really decide which approach fits you best. If you're an all or nothing guy, great, more power to you. If you prefer to be a bit lean when traveling or doing jobs for others, consider the multi-case approach.
I'd like to note that you can mix and match bags and cases too. There's nothing that says, if you have a case, your other storage needs to be comprised of cases too. Sure, If you plan to stack it all when you store it, cases make sense as you can pile them on top of each other but, beyond that, it really doesn't matter. Go with what makes sense and works for you.
My 6 Top Picks That Meet Most Drone Pilot's Needs
OK, so now you have a good idea of what to look for and considerations to ponder. Let's see some of the cases I recommend. Who knows, maybe you'll find one that fits your needs perfectly.
Smatree Carrying Case for DJI Spark
This is a great all-around waterproof hard case for the DJI Spark. IT holds the drone, 4 batteries, prop guards, remote controller, charger and more. It's water-tight and the hardened plastic case will protect your drone well.
Pelican DJI Mavic Air Drone Case
You can't go wrong with Pelican. This was my go-to brand when I wanted to store and protect my camera equipment back in the day. Let me tell you, it can take a beating. This case comes with pre-cut foam for your DJI Mavic Air needs. The drone, charger, remote controller, 4 batteries and additional accessories can all be held safe and secure in this baby.
MC-Cases Professional Carrying Case for the DJI Mavic 2 Pro & Zoom
This is an impressive case for the avid Mavic 2 pilot. It not only holds the drive, charger, remote controller and more but it has slots for six additional batteries! It even comes with foam inserts to customize compartments. Check it out.
Case Club Waterproof DJI Phantom 4 Wheeled Case
If you have a Phantom 4 drone and you travel a lot, this just might be the case for you. With a hardened plastic shell, pre-cut foam, no need to remove your props for transport and plenty of room, this case has a lot to offer. Add to that, the silica gel canisters for moisture protection and the expanding luggage handle and wheels and you have a true traveler for your drone.
Nanuk DJI Drone Waterproof Hard Case
Here's another one for the DJI Phantom 4 pilot. What draws me to it is the excellent protection it offers and the bright color options to easily identify it quickly (great when checking luggage). Just like the others, it has cut-outs for the drone, remote controller, 4 batteries, spare props, a charger, a tablet and more.
Pelican Air 1615 Case
If you're the bring it all in one package kind of guy or you want to customize the foam yourself, look no further than this case here. It's designed to fill the maximum allowed checked baggage measurements and give you plenty of space to work with. With a crushproof, dustproof, watertight seal, it offers protection in spades. Also featured, is an extending handle and wheels, making it easy to travel with.
You can't really go wrong with any of the above. Still, if you don't see one that speaks to you, by all means, keep looking. I tried to find cases that would meet most pilot's needs but each person is different. In the end, it's you that has to be happy with the final product.
Conclusion
So, there you have it. Not just a drone case for your drone but several to choose from and tips on what to look for when it comes to options, features, and capacity.
Now that you have had a chance to read this post, what are your thoughts? Do you like the options I have recommended? Is there another case you think should be listed here? Do you already have one of these cases and would like to share your experience and opinion about it? Please, let me know by commenting below.
Thank you,
Scott Hinkle
MavicManiacs.com