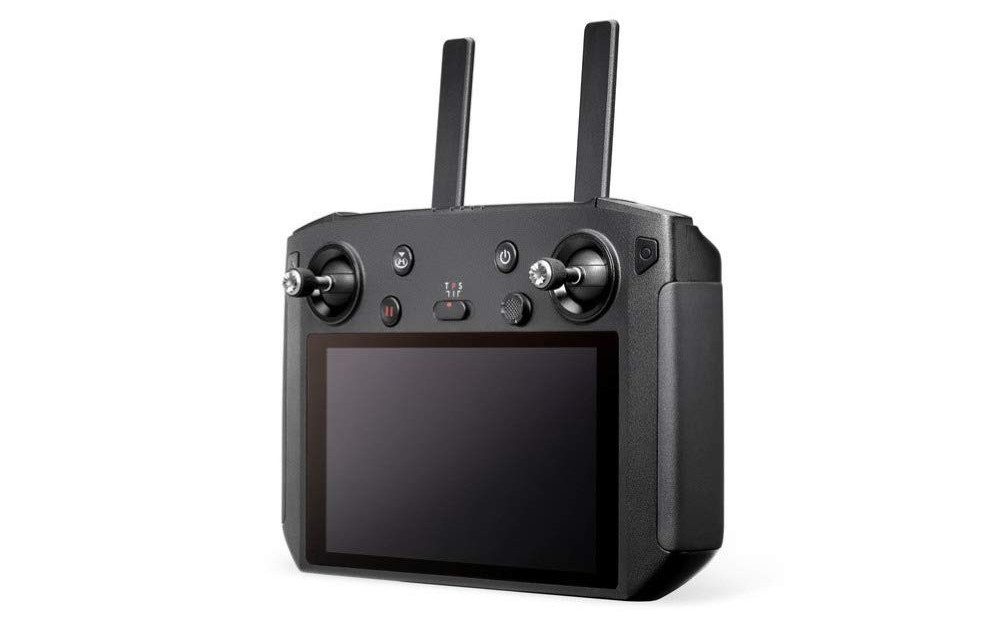 The DJI Smart Controller – Seriously, It's Time to Invest in Your Droning Future
May 9, 2019
I can't believe I'm actually saying this. I'm Mr. Apple, when it comes to my computing and mobile devices. That said, DJI is making great strides to make The DJI Smart Controller a centerpiece in their drone arsenal.
This post is meant to be an addendum/extension of my Review – DJI Smart Controller – Is it Worth the Investment? post. Please check it out, if you haven't already, as it may contain more information that's not listed here. I'm actually changing my own opinion and going to say, it's worth the investment, even if you're an Apple fan like I am.
It's Time to Invest in Your Droning Future so let's take a look to see what DJI has been doing to make this controller a must-have device…
THIS POST MAY CONTAIN AFFILIATE LINKS. PLEASE SEE OUR AFFILIATE DISCLOSURE FOR MORE INFORMATION.
The DJI Smart Controller Is Compatible with the Mavic 2 Series
Right now, you can control any of the DJI Mavic 2 series drones, including the Enterprise models, using The DJI Smart Controller. That means this one controller can control the Mavic 2 Zoom, Mavic 2 Pro, Mavic 2 Enterprise and the Mavic 2 Enterprise Dual.
That's pretty impressive, four drones but only one controller needed. If you're the proud parent of multiple aircraft, compatible with this new controller, it's really a no-brainer. The battery life is quite impressive and should last multiple flights across multiple aircraft and still leave you with power to spare.
They way I see it, you can take advantage of this controller and, since your bird came with one (unless you bought the bundle with The DJI Smart Controller), you can keep your old remote controller handy to use as a backup or even for the dual controller mode, allowing c copilot to control the camera while you take care of flying. I see that as a win/win scenario. In fact, that's a good argument for buying it separately.
If you have a pair of DJI Goggles Racing Edition, you can probably get away without having the second (original) remote, as you can use the goggles as a secondary controller too. Still, it's nice to have that backup controller with actual sticks for tactile feedback.
3rd Party Apps are Supported on The DJI Smart Controller But Better Compatibility is Coming
One of the biggest concerns expressed by many pilots, regarding this new controller, is the lack of 3rd party app support. At its launch, we had to live with what DJI included on the controller and limited ability to install 3rd party apps, using either a built-in web browser or by using APK files on an SD card to get the software installed.
This was a big deal for me as I use several 3rd party apps from Litchi and Autopilot to AirMap, Drone Base and so on. DJI recently announced that they will release a Software Development Kit or SDK that will allow 3rd party app makers to make their apps fully compatible with The DJI Smart Controller.
With this compatibility, it will be easier to install the apps and use them as intended by their developers. I expect many more apps to start popping up, once the SDK is made available to developers. It will be interesting to see how it all gets integrated into this central controller. Again, this is another win/win scenario, 3rd party apps, offering more features, all in one convenient package.
Multiple Drones Can Be Controlled by The DJI Smart Controller Without the Need to Re-Pair Each Time
DJI did pilots a solid with this feature. I'll admit, my drone fund is not impressive by any means. Right now I only have the original DJI Mavic Pro (not even compatible with The DJI Smart Controller). I've had my eye on the Mavic 2 Pro for a while and even considered the Enterprise series. Now, for those of you with more than one bird, assuming they are compatible, you can pair them once with the controller and easily switch between them, literally at the press of a button (or touch of the screen in this case).
Check out this video, by Air Photography, showing show simple it is to pair and switch between aircraft:
That's just awesome! No more re-pairing or carrying around multiple remote controllers for different aircraft. The space savings alone is a reason to consider grabbing this beauty, not to mention the time savings with not having to grab the right remote but simply having to touch the screen and switch effortlessly.
Just note, this is not meant to be done in flight. When you connect to another aircraft, you are disconnected from the one you were just connected to. This make sense as you'd have a heck of a time flying two drones at once. That's just asking for trouble.
More Drone Support is Coming
DJI has spent a lot of time making this controller a central hub for many of their drones. Although I'd love to see support for older models too (after all, the DJI Goggles support older and newer drones and, if it did support my current DJI Mavic Pro, I'd buy it right now), you can rest assured any new models DJI comes out with will likely be supported as well. At the very least any new models that use the OccuSync 2.0 transmission system, should.
I can't imagine DJI would limit this controller to just the Mavic 2 series. To do so would be very short-sighted on their part. That said, they recently claimed that there were no plans to create a Phantom 5 model, so who's to say what their truly thinking when it comes to their drone line. Still, they made this unit upgradeable and hinted at the ability to support more aircraft down the line so I suspect The DJI Smart Controller will be around for quite some time and become the controller of choice for many pilots.
Conclusion
I have to say, I still can't believe I'm actually recommending this controller. Even more so, that I am planning to grab one myself! Like I said, I'm Mr. Apple. I've gone out of my way to find a way to mount my iPad to my controller and I love iOS. Still, I'm going to get The DJI Smart Controller, even though I know it runs Android, and be happy for doing so. Go figure. I'm still trying to wrap my head around that one, LOL.
Like the title says "It's Time to Invest in Your Droning Future". If you're a DJI pilot and you have compatible aircraft, or know you're going to get one soon, grab The DJI Smart Controller now and make your piloting life better.
Do you already have The DJI Smart Controller? Have you been considering grabbing one? What experiences have you had with it? Do you love it? Do you hate it? Did I miss a feature that should be listed here? Please comment below. I really want to know.
Thank you,
Scott Hinkle
MavicManiacs.com