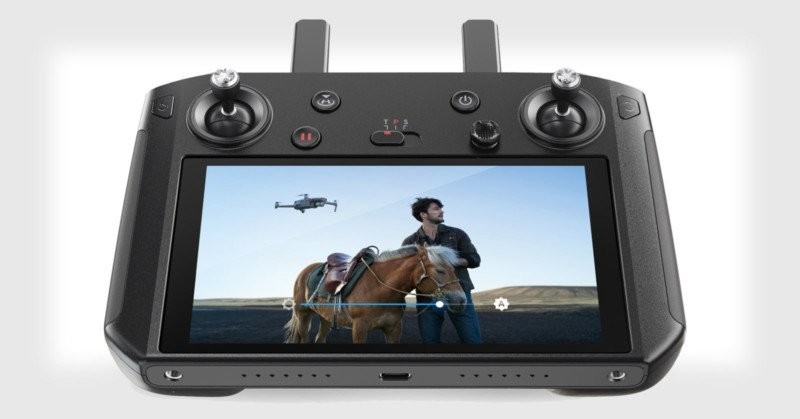 Review – DJI Smart Controller – Is it Worth the Investment?
January 14, 2019
10
By
Scott Hinkle
So, I'm sure you've read my DJI Mavic Pro Quadcopter Remote Controller – Why You Need It post. Well, guess what?  There's a new DJI controller on the market. What features does it offer? Which drones does it work with? Is the DJI Smart Controller worth the investment? Let's find out in this review…
THIS POST MAY CONTAIN AFFILIATE LINKS. PLEASE SEE OUR AFFILIATE DISCLOSURE FOR MORE INFORMATION.
Let's Talk Features…
The biggest thing you'll notice right away, when comparing the new DJI Smart Controller to the controller that you're used to, is the ultra-bright 5.5″ 1080p screen that boasts a 1000 cd/m² brightness level making it approximately twice as bright as conventional phone/tablet screens.
This new controller is equipped with the new OcuSync 2.0 system which will automatically switch between 2.4 GHz and 5.8 GHz bands to help it overcome interference and ensuring reliable long-range communication.
The operating temperature range is quite impressive offering from -20°C to 40°C, allowing you to operate in a wider range of environments than your standard controller (and probably phone/tablet) will.
The controller utilizes a customized Android operating system, optimized for the DJI Go 4 app. Third party apps are also supported, allowing you to utilize virtually any editing and control apps you wish.
This baby has several other features including; a built-in microphone and speaker, which will come in handy during live streaming and other operations as well as video play back through its available HDMI output port.
Another feature is SkyTalk which allows live streaming of your drone's camera view directly to social media platforms. You also have the ability to create short videos instantly and share them.
The battery life is quite impressive boasting quick charging and the ability to operate continuously for up to 2.5 hours.
Here's the spec sheet:
OcuSync 2.0
Operation Frequency Range
2.400-2.4835 GHz, 5.725-5.850 GHz[1]
Max Transmission Distance (unobstructed, free of interference)
2.400-2.4835 GHz:8 km (FCC), 4 km (CE), 4 km (SRRC), 4 km (MIC)5.725-5.850 GHz:8 km (FCC), 2 km (CE), 5 km (SRRC)
Transmitter Power (EIRP)
2.400-2.4835 GHz:25.5 dBm (FCC), 18.5 dBm (CE), 19 dBm (SRRC), 18.5 dBm (MIC)5.725-5.850 GHz:25.5 dBm (FCC), 12.5 dBm (CE), 18.5 dBm (SRRC)
Wi-Fi
Protocol
Wi-Fi Direct, Wireless Display, 802.11a/g/n/ac, Wi-Fi with 2×2 MIMO is supported
Operation Frequency Range
2.400-2.4835 GHz, 5.150-5.250 GHz5.725-5.850 GHz
Transmitter Power (EIRP)
2.400-2.4835 GHz:21.5 dBm (FCC), 18.5 dBm (CE)18.5 dBm (SRRC), 20.5 dBm (MIC)5.150-5.250 GHz:19 dBm (FCC), 19 dBm (CE)19 dBm (SRRC), 19 dBm (MIC)5.725-5.850 GHz:21 dBm (FCC), 13 dBm (CE), 21 dBm (SRRC)
Bluetooth
Operation Frequency Range
2.400-2.4835 GHz
Transmitter Power (EIRP)
4 dBm (FCC), 4 dBm (CE), 4 dBm (SRRC), 4 dBm (MIC)
General
Battery
18650 Li-ion (5000 mAh @ 7.2 V)
Charge Type
Supports USB power adapters rated 12 V/2 A
Storage Capacity
ROM 16 GB + scalable (microSD)
Charging Time
2 hours (using a USB power adapter rated 12 V/2 A)
Video Output Port
HDMI Port
Power Supply Current / Voltage (USB-A port)
5 V/ 900 mA
Operation Temperature Range
-4° to 104° F (-20° to 40° C)
Storage Temperature Range
<1 month: -22° to 140° F (-30° to 60° C)1-3 months: -22° to 113° F (-30° to 45° C)3-6 months: -22° to 95° F (-30° to 35° C)>6 months: -22° to 77° F (-30° to 25° C)
Charging Temperature Range
41° to 104° F (5° to 40° C)
Supported Aircraft Models[2]
Mavic 2 Pro, Mavic 2 Zoom
Dimensions
177.5 x 121.3 x 40 mm (antennas folded, and the control sticks unmounted)177.5 x 181 x 60 mm (antennas unfolded, and the control sticks mounted)
Supported SD Cards
Supported SD Cards
microSD™Supports microSD cards with a capacity of up to 128 GB and R/W speed up to UHS-I Speed Grade 3
Which Drones Does it Work With?
As of right now, drone compatibility is limited to the Mavic 2 series. So, basically, you can use it with the Mavic 2 Pro and Mavic 2 Zoom. Support for the Mavic 2 Enterprise is coming.
Sadly this means it's not for those of us with the Mavic Air, Mavic Pro/Pro Platinum or even the Phantom series at this time. I suspect as new models are released (I'm talking to you, Phantom 5) the DJI Smart Controller will support them.
What About the Controller I Already Have?
It still works. It's still great. The questions are:
Do you have a drone that currently works with the new DJI Smart Controller?
Do you want or have a need for an all-in-one solution vs using your existing controller and your phone/tablet?
Do you operate in the expanded temperature range that is offered by the new controller?
Is your current device's screen brightness insufficient?
Are you flying continuously (with multiple battery swaps) for up to 2.5 hours at a time?
Is price not really a consideration (aka, are you willing to pay as much as a Mavic Air or Mavic Pro costs just for a controller)?
These are the questions to consider. Some will be a one yes answer is enough where others might require multiple yes answers to come to the decision to purchase it.
Is it Worth the Investment?
This is really one I can't answer for you. I'll be honest here. I'm an Apple fanboy. The fact that this uses Android is actually a big deterrent for me. That's not to say Android is bad… I've had mixed experiences with the devices, much of which I can say is vendor caused. That said, I have quite an extensive financial investment into the iOS ecosystem and plan to stay there for the foreseeable future.
The way I see it, you need to evaluate what's the most important for you and see if the yeses fall into place. If they do, then get it. If not, hold off. I suspect that you might be able to save a buck or two grabbing one of these second-hand or during some sale.
Conclusion
All-in-all, this is a pretty sweet device. The DJI Smart Controller offers great features for those who want/need them. It's hard for me to pick this up (especially since I'm an Apple guy) when I can pretty much duplicate the features I need by adding a phone/tablet to my existing controller.
Is it worth the investment? You tell me. I'd love to hear your thoughts on the DJI Smart Controller. What criteria do you evaluate it against and what was your decision? If you think I missed anything or if I got something wrong in this review, I promise, I'll take your feedback as constructive criticism and won't go off the deep end. Please comment below. I'm happy to hear what you have to say.
If you've decided that you just have to have one, grab yours directly from DJI: DJI Smart Controller or from Amazon below:
Thank you,
Scott Hinkle
MavicManiacs.com