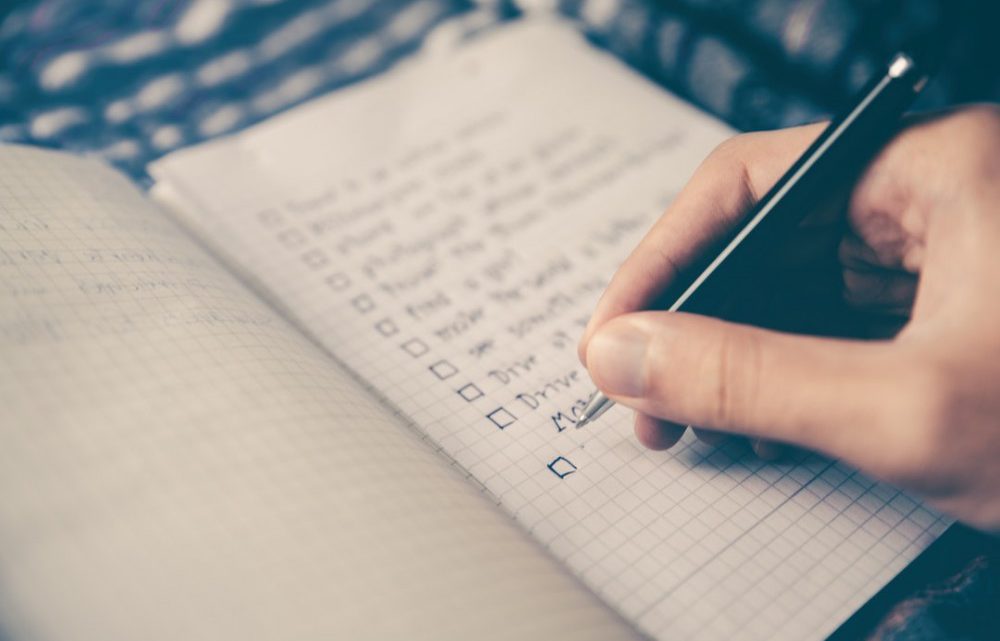 Mavic Pro Preflight Checklist – Steps to Take For Each Flight – Updated!
July 18, 2018
Just like in the aviation industry, one of the keys to insuring a successful flight is the preflight check. This post will show you the steps to take before each flight and provide you with a base Mavic Pro Preflight checklist that you can customize and expand upon to fit your specific needs and even a different drone.
Update – Added a few more check boxes for things such as flight team briefing, verifying registration numbers are present and legible, obtain insurance if necessary and verifying all necessary paperwork is available if requested.
If you don't yet have a drone, check out my DJI Mavic – Which One to Choose post.
THIS POST MAY CONTAIN AFFILIATE LINKS. PLEASE SEE OUR AFFILIATE DISCLOSURE FOR MORE INFORMATION.
Do I Really Need a Checklist?
The short answer is yes. Having a checklist will make sure you don't miss any steps or repeat a step you already took because you can't remember if you did it or not. Do yourself a favor and just use one. It would suck to be in the middle of your flight and realize you forgot to add, remove or change that ND filter on the camera or see your Mavic fall from the sky because you didn't verify the props were seated correctly, etc.
What's the Best Format for a Checklist?
This will boil down to personal preference. I'm a stickler for electronics and not having paper to drag around and waste (although I'm dragging around an electronic device). You have various choices from paper, apps, even a video or audio recording you play each time as you perform the walk through and so on.
Many people find having a physical piece of paper to check off as they perform their preflight check works best for them. I tend to lean toward a to do or checklist app that I can tick a box off as completed once I finish that particular task. Another benefit to the app method is the ability to customize it on the fly by adding, removing or modifying entries to make it custom to my particular use and situation. You can can do the same by quickly scribbling changes on a paper checklist as well, I just prefer to have the clean "professional" look of an electronic solution.
Whatever your preference, make it an actual checklist, not a paragraph listing everything but a line-by-line checkable list. Select a physical solution, don't just commit it to memory. You take the chance of missing a step that could lead to a less than desirable flight experience.
The Actual Checklist
Below is the actual checklist that I use before each one of my flights. Feel free to use it as-is, take it and make it your own, even share it with others. My goal here is to help other drone professionals and enthusiasts to make each flight a safe and enjoyable one. This list will be pretty comprehensive. Some steps may not apply to you and you can remove them.
Before Heading Out to the Flight Location
Check for Current App and Hardware Firmware Updates
Charge All Devices to be Involved in the Planned Flight

Remote Controller
Drone
Additional Batteries
Phone/Tablet
Accessories

Check the Pertinent Information for the Planned Flight Location

Airspace and Flight Restrictions – See my DJI Mavic Pro Apps – My Top Picks post for a list of apps I use to obtain this information.

Contact Appropriate Authority for Notification/Authorization if Applicable

Weather – See my DJI Mavic Pro Apps – My Top Picks post for a list of apps I use to obtain this information.
Known Obstacles
Events/Crowds Nearby

Preprogram Flight Plan, if Applicable- See my DJI Mavic Pro Apps – My Top Picks post for a list of apps I use to plan and control my drone using a predefined flight plan.
Pack All Items to be Used for Upcoming Flight – See my Essential DJI Mavic Pro Accessories – The Must Haves post for a list of accessories I can't live without.

Remote Controller
Drone
Additional Batteries
Phone/Tablet
Charger
Launching/Landing Pad
Extra Props
Additional Accessories
Once Arrived at the Flight Location
Scout the Planned Flight Area and note Obstacles, People, Animals, etc.
Select Location to Conduct Flight Operations

Select an Area to Control the Aircraft From and Maintain a Line of Sight at All Times
Select and Area to Launch and Land the Aircraft
Before Taking Off
Obtain Insurance if Necessary
Verify all Necessary Documentation is Present

Drone/Pilot Registration Card
FAA Part 107 License
Proof of Insurance

Brief all Members of the Flight Team and Anyone Else Involved in the Operation

Explain the Planned Mission
Detail Each Member's Responsibilities
Discuss Abort Procedures and Alternate Landing Sites
Make Sure all Questions are Answered

Conduct Visual and Physical Inspection of the Drone

Verify Registration Number is Present and Legible
Remove Gimbal Cover and Clamp
Verify Camera can Move Freely
Confirm Arms are Fully Extended
Check Props for Cracks and Signs of Wear
Check Props are Seated and Secured Properly
Check Drone for Cracks and Signs of Wear
Check Battery for Cracks, Bulges and Signs of Wear
Confirm Battery is Properly Seated and Locked in Place
Verify microSD Card is Installed
Verify the Correct ND Filter, if Applicable, is Installed Correctly

Deploy Launching/Landing Pad
Place Drone on Pad
Connect Phone/Tablet to Remote Controller
Power On the Remote Controller
Launch Appropriate Application
Power On Drone
Verify Phone/Tablet, Application and Done Communication
Allow Diagnostics to Complete
Verify Hardware Status

Compass
IMU
ESC
Vision Sensors
Battery Status
Gimbal Status

Verify GPS Satellite Lock
Verify Radio Channel Quality
Confirm Photo/Video Settings are correct for the Intended Flight
Check Preferences

Home Point Settings
Multiple Flight Modes
RTH Altitude
Remote Controller Signal Lost Setting
Obstacle Avoidance
Backward Flying
Vision Positioning
Landing Protection
Precision Landing
RTH Obstacle Check
Stick Mode
Custom Button Settings
Low Battery Warnings
Smart RTH
Gimbal Mode and Settings
Live Broadcast – If Applicable
Local Caching

Verify Launch Are is Clear
Take Not of Potential Emergency Landing Locations
Takeoff
During Flight
Hover at 15-30 Feet for 10 Seconds for Precision Landing Acquisition
Maintain Line-of-sight
Avoid Wildlife
Avoid Obstacles
Fly Safely
Be Respectful of Privacy Issues
Be Mindful of Battery Life
Before Landing
Verify Landing Site is Clear and Safe to Use
Return to Landing Location
Perform a Manual or Automated Landing
After Landing
Power Down the Aircraft
Power Down the Remote
Close the Application
Power Down any Additional Accessories
Perform a Physical Check of the Drone and Battery for any Indications of Damage or Wear
Install the Gimbal Clamp and Cover
Collect All Items

Remote Controller
Drone
Additional Batteries
Phone/Tablet
Charger
Launching/Landing Pad
Extra Props
Additional Accessories

Log the Flight – If Applicable
Return Home
Begin Processing Footage – Check out my Post-production category for more programs, tips and sources to use in your post-production workflow.
Share With the World
Checklist Options
You have many options when it comes to creating and using a checklist.
Paper – Go ahead and write one out or, better yet, type it out on your computer and print it to paper.
Applications – There are many applications you can use to create a checklist. They range from generic To-Do and Checklist apps to ones created specifically for the drone industry. Check out your respective app store for options. I personally use the free Notes app on my Mac OS and iOS devices. It syncs between devices and works pretty well.
Audio/Video – There are several audio and video based checklists out there. They're basically someone going through the list and reading it out loud while they show screenshots or recordings of the settings and related material.
Memory – Not recommended. You can commit the list to memory and hope that you don't forget something along the way.
As promised, here is my list in various formats for you to download and use as-is or modify to fit your needs:
Editable Microsoft Word Format: Mavic Pro Preflight Checklist by MavicManiacs
PDF Format: Mavic Pro Preflight Checklist by MavicManiacs
DartDrones has a shorter checklist that you may like to consider.  Check it out here.
Conclusion
Well there you go, my comprehensive Mavic Pro preflight checklist, providing steps to take for each flight to help insure a successful outcome. Please let me know what you think. Did I omit something? Is it too much? Should I list it in a different order? Whatever the comment, I'd love to hear it. Just leave a comment below. I read and respond to each one.
Thank you,
Scott Hinkle
MavicManiacs.com