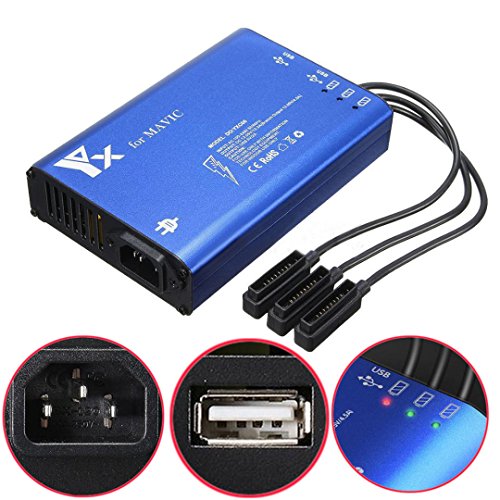 Review – Mavic Pro Multi Battery Charger – Indispensable
March 24, 2018
One of the first things I discovered when I took my first few flights was 1 battery simply won't due. The next…the need to charge multiple batteries quickly to keep me flying. So began my search for a Mavic Pro multi battery charger. It didn't take me long to find the perfect fit. I ended up ordering the FSLabs 5 in 1 Mavic Pro Charger. See why I find it indispensable in this review. Don't forget to check out my post on DJI Mavic Pro Accessories – The Must Haves too!
THIS POST MAY CONTAIN AFFILIATE LINKS. PLEASE SEE OUR AFFILIATE DISCLOSURE FOR MORE INFORMATION.
Charge Multiple Batteries
First and foremost this charger can charge 3 batteries at the same time. It has 3 individual cables with the correct end to connect directly to the Mavic battery. Simply plug the charger into an outlet and connect the batteries to the charger. Charge time from empty to full is approximately 60 to 80 minutes regardless of the number of batteries being charged at once. No more waiting for 1 battery to charge and having to swap it out for the next!
Charge the Remote Control, Your Phone, Tablet or any USB Device
The charger also has 2 USB charging ports supplying up to 5 volts and 2 amps. Use 1 to charge the Mavic remote. Although the remote battery outlasts flying the drone through multiple batteries, it's always nice to be able to top it off.
Use the second USB port to charge your phone or tablet.
When you're not charging you Mavic related devices use this charger to charge any other USB devices. This is, after all, a USB charger. Use it to replace multiple chargers on your desk or nightstand.
Do it all Simultaneously
This can't be stressed enough…The best feature of this charger is you can charge it all simultaneously! No more waiting for 1 battery to finish charging before starting the next. In less than 80 minutes you'll have your remote, device and 3 batteries fully charged and ready to go!
Intelligent Charge & Intelligent Temp Control
Intelligent charge control – 3 separate power rails, 1 for each battery.
Intelligent temp control – Automatic fan speed adjustment based on charger temp.
Support for 120v and 240v – Perfect for traveling abroad.
Charge Status at a Glance
Although the batteries themselves have charge indicators this charger also has LED indicators. They will be green if no battery is connected or if the battery is fully charged. The indicators will be red while the battery is being charged. The USB ports do not have such an indicator but that is expected as USB devices tend to draw power continuously.
Special Tip
I came across an awesome tip in my search for all things Mavic which I'd like to share with you. For the best health and performance of your Mavic batteries you should not store them fully charged for extended periods of time. DJI knows this well and has even developed the batteries to self-discharge over time if they sit idle for an adjustable number of days. You can set this adjustable time anywhere between 3 to 10 days however this is not my tip.
I want to keep my Mavic in a ready-to-go state but how can I if my batteries discharge and I shouldn't keep them topped off all the time? The solution is simple. Connect your charger to a smart switch or plug and connect your batteries and devices to the charger. Now when you're sitting in class, at the office or are otherwise away from your Mavic and see that it's a beautiful day outside and you want to go flying as soon as you get home you can simply turn the smart plug on remotely. When you get home they'll be fully charged and ready to go!
Conclusion
A DJI Mavic Pro multi battery charger will make your overall drone experience much more enjoyable and will keep you in the air longer. This particular charger is not the only one on the market but it's rock solid and has served me well. I found it to be indispensable and I highly recommend it to anyone looking for a convenient way to keep everything charged.
This is just one of many accessories I recommend.  Check out my Essential DJI Mavic Pro Accessories – The Must Haves post for more.
FSLabs DJI Mavic Pro/Platinum 5 In 1 Rapid Battery Charger Smart Multi Battery Intelligent Charging Hub With Ground Connection, LIPO Bag and Battery protectors
Wemo Mini Smart Plug
If you feel I've missed anything, disagree with my list or have additional items you think should be included in this review, please comment below. I do review comments and, once approved, they will be visible on this post for others to see.
Thank you,
Scott Hinkle
MavicManiacs.com