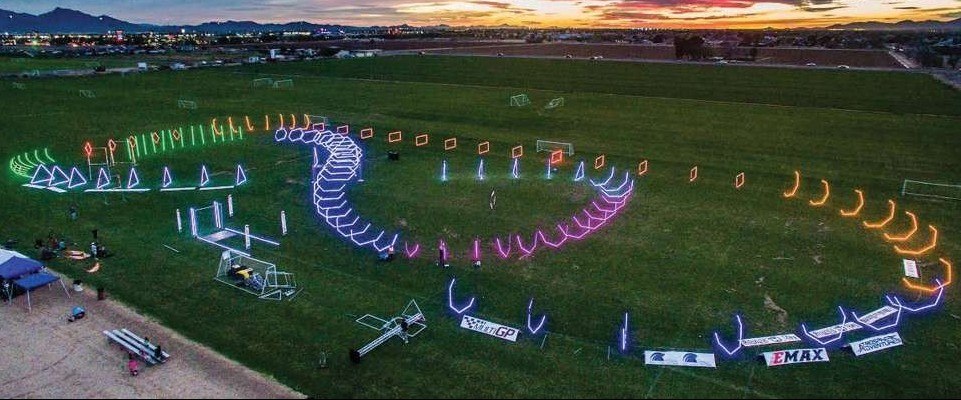 Drone Obstacle Course Kit – 4 Options For Added Fun And To Enhance Your Skills
November 14, 2019
12
By
Scott Hinkle
If you're a repeat visitor to this site, you probably know that most of my posts are about drones in the news, drone and accessory reviews, post-production tips, and so on. Today's post is another accessory review type of post, but one that's more on the fun side of things and not just a recommended item like an ND filter or extra set of props.
Today we'll be talking about a Drone Obstacle Course Kit. We'll cover what it is, why you might want one, what you get in the kit itself, and other options available to you.
I'm looking to bring more articles like this one to you in the hopes that it will help maintain or rekindle your love for flying your drone. Drones are great tools, but they're also enjoyable toys. It's items like this one that will help you hone your skills and even bring a little fun and excitement back into your droning endeavors.
THIS POST MAY CONTAIN AFFILIATE LINKS. PLEASE SEE MY AFFILIATE DISCLOSURE FOR MORE INFORMATION.
Let's start by talking about what A Drone Obstacle Course Kit is…
What Is A Drone Obstacle Course Kit?
The simplistic answer is "A collection of items, specifically designed for drone operators, that you can set up or layout in various ways, to use for fun and skill enhancement." Think of it as a race track with obstacles for your drone.
A Drone Obstacle Course Kit can contain all kinds of different items from cones to rings, even simple boxes. The whole idea is that you can set up these items in whatever way makes sense to you and start using them right away. Because it's just a collection of things that you can arrange however you see fit, you can continue to challenge yourself by mixing it up now and then.
Some kits will contain either a preferred setup schematic or several to choose from. Others may not even offer a suggested layout and leave it up to you to make that decision. Either way, the important part is that you use your kit and build your skills while having fun.
As you get comfortable with a particular layout, tweak it a bit. Make it more challenging and add new twists to enhance your piloting skills. Nothing is preventing you from adding more items to your kit. Heck, they can even be every-day items, such as a chair or whatnot. It doesn't have to be something specifically designed for drones as long as it makes sense and serves a purpose in your overall design.
Now that you know what A Drone Obstacle Course Kit is, let's talk about why you'd want one…
Why Would I Want One?
Some of you may be thinking, "I have a drone. The world is my obstacle course. Why would I want to buy one?" That's an excellent question, and maybe you don't actually need one, but I'd argue they have a place in almost every drone pilot's arsenal, and here's why:
Skill Building/Enhancement
It's one thing to be on the job, doing what you need to, to complete the objective. It's quite another to be focusing on your skillset.
Maybe you've been nervous about spacial reasoning. Now you can set up obstacles and practice flying closer to objects in a safe environment, perhaps even closer to the ground to prevent potential damage should you clip something. As you practice these maneuvers, you'll become more comfortable and confident in your skills.
As you get to a certain level of comfort, you might even start practicing such maneuvers at higher speeds and so on.
Skill enhancement is one of the best arguments for setting up an obstacle course. You might even offer it up to your friends or start a piloting skills business.
Fun
Let's face it. Drones are just plain fun. Yes, they're professional tools that are used in all sorts of ways, but when it comes down to it, they're a lot of fun to fly. Now, take it up a notch and think skills. You know there's a little pride in you when you pull of a maneuver flawlessly. If not, I'm a bit jealous of your modesty. Still, there's that primary instinctual drive that pushes us to try something new and maybe even show off a bit.
An obstacle course is a perfect platform for these urges. Step up a level and set up a racecourse. Did you know that there are professional drone races now with big prizes? Imagine practicing for one of those.
I'm sure there's more than these two reasons to consider an obstacle course, but I think these two alone are enough to convince most drone pilots that it would be a worthwhile investment.
What's great is that these two reasons are not mutually exclusive. Who's to say you can't have fun while building skills or build skills while having fun? I'd argue that both can be true and are most of the time. Even when I'm doing a simple job for DroneBase, DroneUp, or another party, I find that I continue to build my skill and also have fun doing it.
Now those examples are from when I'm on a job. Imagine the difference being on an obstacle course would make. I bet I'd do things a bit different. I'm not saying I'd be unsafe, but I am saying I would probably do things a little faster, maybe a little closer to objects and so on. That in itself is a bit exciting to me.
So, let's see what you get in A Drone Obstacle Course Kit…
What Do I Get In A Kit?
There are several options out there. Here are four different kits/items to choose from:
An easy to set up, snap-together obstacle course. Made from flexible plastic, impacting these obstacles will do less (if any) damage to your aircraft. They can be set up in minutes and come with a 12-month warranty.
This kit includes nine rings of varying sizes to help you master your piloting skills. They can also be used outdoors, despite the name description.
Pop-up, ultra-portable gates that can be set up in seconds. Set them up in any configuration you desire and start showing off those skills!
These are another pop-up type of gate that can be set up very quickly. Grab a set or two and build an obstacle course to put others to shame!
There are many other options available to you, and there's nothing that says you can't mix and match sets, so see which ones might work for you and start designing an obstacle course to fit your needs. Don't forget; you can mix these items with other objects to make a truly fantastic course that others would be jealous of.
Are There Other Options?
Always.
You don't have to buy a kit to set up an obstacle course. You can use everyday items. Consider chairs and tables as obstacles to fly over and under. If you're a do-it-yourself type of person, you can build pretty much anything. Hit the hardware store and go to town. Heck, even a hula hoop, can be a great skill-building item. You're only limited by budget, time, space, and skill set.  I've also seen some pretty-cool obstacles made from PVC pipe.
If the do-it-yourself approach isn't your thing, consider heading out to local parks and whatnot. Many kids' playgrounds have all sorts of obstacles to choose from. Maybe you can fly down the slide or, if you're lucky, still find the old metal playground with monkey bars and that spinning thing we all used to try to get going so fast so it would throw our friends off, etc.
Another option is finding a drone obstacle course/race track that you can rent time on. These aren't as prevalent as I'd like, but they are growing in popularity.
As you can see, buying a kit of your own isn't the only option. Still, if you have a kit of your own, it's nice to be able to pull one out and set it up anywhere you want at any time.
Conclusion
I kind of look at A Drone Obstacle Course Kit as the American Ninja Warrior course for drones. Instead of putting your body through the paces, you put your skills through them. Just like ANW's course, not only is skill important, but time plays a significant factor. Having your own kit lets you hone those skills and improve your course times.
In the end, it's up to you to decide if you can and will take advantage of your own course. If you're feeling a bit down or getting bored with your daily drone activities, A Drone Obstacle Course Kit can spice things up and rekindle your love and excitement for droning in general. If you want to brush up on your skills or practice a new or unusual maneuver, a kit can help with that as well.
Any way you go, home-built, purchased, leased/rented, and so on, a drone obstacle course can be an excellent investment.
Now, I'd like to hear from you. Have you purchased a kit? Did you build a course yourself? Have you ever flown a drone on an obstacle course? Do you think an obstacle course is a good or bad idea? Is there a kit I didn't share here that you think should be? Do you know of a course that can be rented/used that you'd like to share with others? Share your experiences and opinions by commenting below.
Thank you,
Scott Hinkle
MavicManiacs.com