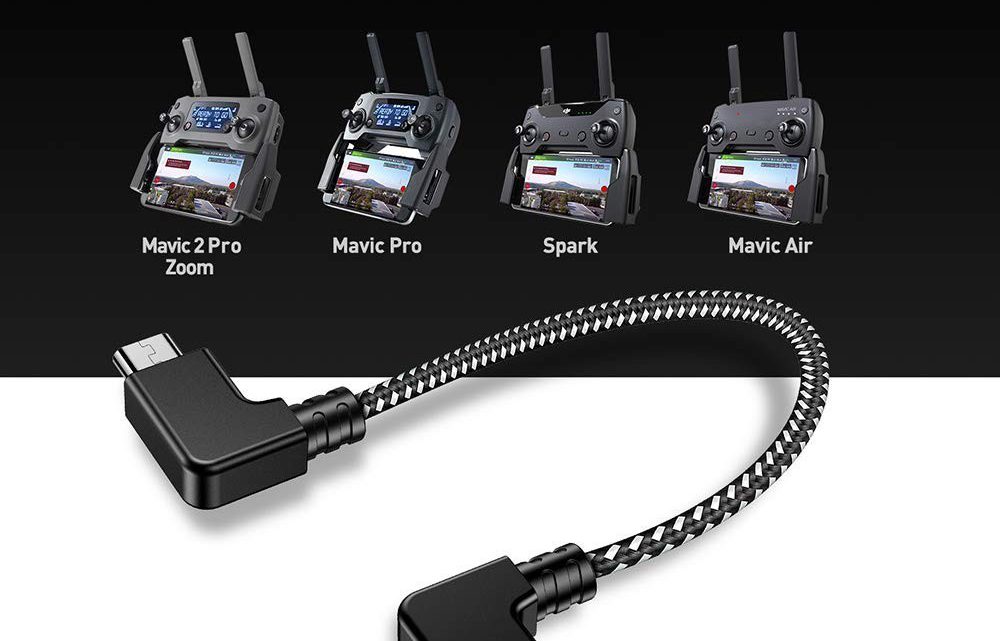 Review – Quality Replacement Cable for iOS Devices
January 9, 2019
0
By
Scott Hinkle
Normally, something like this would just end up on one of my accessory posts like Essential DJI Mavic Pro Accessories – The Must Haves but I just wanted to write a quick post about a quality replacement cable for iOS devices that I was able to review recently and offer a discount code on top of it.
THIS POST MAY CONTAIN AFFILIATE LINKS. PLEASE SEE OUR AFFILIATE DISCLOSURE FOR MORE INFORMATION.
Why Do I Need a Replacement Cable, Mine Works Just Fine?
Let's face it. The cable that comes with your Mavic is, shall we say, fragile. It's thin, it's pretty short and it's just begging to get munched up in some way that will eventually break it. I can't tell you how many times an issue has been corrected simply by replacing a cable.
What about that length? It doesn't leave you a whole lot of options as to how you want the cable ran or your phone/tablet oriented. It's power port on the left or no dice. At the very least you should keep one or more spares handy anyway. Why not pick one offering more options?
Is This Replacement Cable Really All That?
So I had the pleasure of grabbing a couple of these and testing them out. I have to say, yes they really are all that. Some of the features include:
90° Angled Connectors – This just keeps things clean and simple.
Premium Smart Chip – To protect your phone, tablet and controller from damage.
Nylon Braided Cable – Flexibility without the worry of breakage.
PC Jacket – To protect the cable where cables tend fail the most.
Durability – The braided cable is up to 10 times stronger than ordinary cables.
Length – These cables are one foot long. That's enough to allow you pretty much orient your device any way you see fit without being in the way and yet remain short enough that storing them in your bag isn't an issue.
23 AWG High Gauge Low Impedance Wires – Offer up to 6% faster data transfer speeds over ordinary cables.
Looks – What can I say, the cable looks cool.
I have to say, I really like it and do recommend it to anyone looking for a replacement or spare cable for your iOS device to connect to your drone controller.
What's This Discount Code I Heard About?
OK, so, if you use this code during checkout, you'll save 40% off the advertised price. Please note this is for the single cable only and will not apply to the dual pack (which is basically 2 cables already at the 40% off price).
Without further adieu, here's your code: BLRPOHKK
Great, I Have the Code But Where Do I Get the Cable?
I had to tease you a little bit. You can find it on Amazon.com. Here's the direct link showing a pretty picture and the current, non-discounted, price:
Conclusion
I know, I don't usually put up a review post for a single small item like this but I thought it was worth it for a good, quality replacement cable for iOS devices at a reasonable price.
Let me know what you think. if you end up grabbing one by commenting below.
Thank you,
Scott Hinkle
MavicManiacs.com