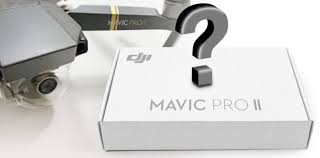 DJI Mavic Pro 2 Rumors – Updated!
April 10, 2018
2
By
Scott Hinkle
I know we're all chomping at the bit for the new Mavic Pro to be released. So much so in fact that there's a lot of DJI Mavic Pro 2 Rumors floating around. Some of us are looking to "upgrade" others are holding off on buying their drone now thinking "The next one is just around the corner. If I wait I can get something better or at the very least what I'm looking at now will probably drop in price". Let's check out the speculations and see what we might expect from the new drone.
For a comparison of the entire, currently available, Mavic family of drones, check out my DJI Mavic – Which One to Choose post.
Update! – The Mavic 2 series has been released.  Check out my The DJI Mavic 2 – The New Models Are Finally Here! post for more information.
Update again! – The Mavic 2 Enterprise model has been released.  Check it out in my https://mavicmaniacs.com/the-dji-mavic-2-enterprise-its-finally-here post.
THIS POST MAY CONTAIN AFFILIATE LINKS. PLEASE SEE OUR AFFILIATE DISCLOSURE FOR MORE INFORMATION.
Camera Specs
This is probably the widest rumor out there. What is the DJI Mavic Pro 2 going to pack camera wise?
The early rumors pointed to a 1″ sensor, much like the DJI Phantom Pro 4 has now, however, this has been replaced with more recent rumors of a sensor provided by Sony with the following specs:
1/1.7″ sensor size
24mm field of view in the 35mm format
A variable aperture of f/2.8-11
12 Megapixel resolution
10-bit data rate
4K video recording at up to 60 frames per second
Non-mechanical shutter
If these camera rumors turn out to be accurate then we can expect better image quality over the current DJI Mavic Pro offering including:
Improved low light performance
Better dynamic range
Less noise
Obstacle Avoidance
The current DJI Mavic Pro offers obstacle avoidance in 2 directions, forward and down. The latest rumors project the DJI Mavic Pro 2 to offer obstacle avoidance in all 6 directions, forward, down, up, backward, left and right. Anther rumor has it more on par with that the Mavic Air currently offers which is forward, down and backward sensors. What hasn't been touched on yet is if they avoidance will work like it does currently on the DJI Mavic Pro, simply stopping when an object is detected in the drone's path or if it will work more like the DJI Mavic Air and attempt to go around the object and continue on its way. My guess is the latter but who knows for sure.
Another possibility is infrared 3D sensing. This would allow the Mavic Pro 2 to "see in the dark".
If on or more of these rumors turn out to be right it will not only make flying the new Mavic safer but save many a pilot from expensive mishaps, many of which were experienced when flying backward.
What About Size?
There are conflicting reports on his topic however the consensus is that it will be larger than the current Mavic Pro. How much is uncertain but then again these are all rumors so its all uncertain.
Flight Statistics
We all know that flight time is important. Rumors put it as slightly higher than 30 minutes (around 32 minutes or so) making it slightly better than the current 30 minute Platinum flight time.
Speed is another consideration. Current rumors say it will fly at speeds up to 45 mph.
What about response? Another item on the list is improved agility and precision. Faster reaction time to stick inputs will make for a more immersive experience and allow for new and better scenes/transitions.
Other Items
The batteries are expected to be larger (and heavier) and thus, won't be compatible with current Mavic Pro units.
The gimbal will be of new design.
The motors will be larger and more powerful (requiring that bigger battery) to compensate for the increased size and weight.
Price Point – This one is all over the place. Most have it coming in at a higher price than the Mavic's original release price. My guess is somewhere between $1300 and $1700 depending on the package you select.
There have been some thoughts on water resistance being a feature but nothing substantial to back that up.
Range may be increased slightly.
Release Date – This is probably what everyone's really waiting to find out. Originally it was rumored to be coming any day back in February then moved to "Should be out in April" status and now there's talk of delays until September. This one is anyone's guess. I'm hoping April is the release month as its my birthday month and easier to persuade the husband that its a good purchase :).
DroneDJ has an excellent post on the possibility of an optical zoom lens for the DJI Mavic Pro 2 (II).
Update – Images Leaked Online!
Check out these latest images.  If they turn out to be real, it's a whole new ballgame!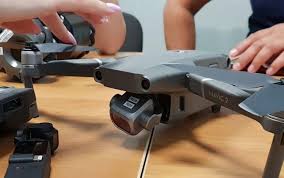 Judging from this picture the unit is a bit larger, has more rounded edges and what looks like a removable camera?  If that's the case DJI may offer multiple camera options to fit your needs (i.e. infrared, standard, etc.). Also in the picture, there appears to be some sort of hand-held module that might allow you to use the drone's camera off-drone.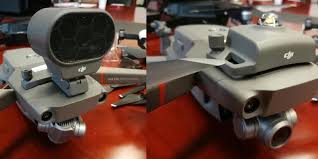 In what is being called the Mavic Enterprise model, it appears that a mounting system has been introduced and various accessories may be available to accomplish a range of tasks. I can't really say what the modules in the photos are for but they definitely differ from one another and I'd guess there are more than just these 2 in the works. I can't tell from this image if the camera on the Mavic Enterprise is modular as the one on the Mavic 2 appears to be or fixed. It may be that this is just a different type of camera being displayed on this model.
Update yet again! – It looks like the event has been rescheduled for August 23rd.  Be ready for the new releases!
Conclusion
Well, there you have it. All of the DJI Mavic Pro 2 rumors (that I know of anyway). It will be interesting to see which ones turn out to be right. What are your predictions/hopes? Have you heard something I didn't list here? Let me know in the comments below.
If you're tired of waiting or just need that drone now check out the Mavic Pro, Mavic Pro Platinum and Mavic Air options at Amazon below:
DJI Mavic Pro
If you feel I've missed anything, disagree with my post or have additional items you think should be included please comment below. I do review comments and once approved they will be visible on this post for others to see.
Thank you,
Scott Hinkle
MavicManiacs.com