Review – The DJI Osmo Pocket – Quite an Impressive Device
November 29, 2018
OK, I'll be the first one to admit it. My initial suspicions for the Because Life is Big Event weren't quite on point. In my defense, I did come back and update that post to note the possibility that it may not be a new drone and that it could be a DJI Osmo device instead. I guess that means my record isn't so bad after all.
So what was announced? The DJI Osmo Pocket. It was not the announcement we were hoping for, but it's actually quite an impressive device. I know this site is all bout drones with a more specific focus on the DJI Mavic series but, in this review, we'll see what the DJI Osmo Pocket is all about.
THIS POST MAY CONTAIN AFFILIATE LINKS. PLEASE SEE OUR AFFILIATE DISCLOSURE FOR MORE INFORMATION.
What is the DJI Osmo Pocket
In short, the DJI Osmo Pocket is the smallest 3-axis stabilized handheld camera from DJI. It precisely adjusts for your movements to provide a smooth movie-like recording that just puts electronic and optical stabilization to shame.
This device is so small you can literally take it anywhere (within reason – I don't think it's waterproof, at least not without an external case, and so on but you get the idea). Think of it as just as portable as your cell phone (if not more) with many more camera features than a typical cell phone can provide.
Check out DJI's own introduction video:
What does the DJI Osmo Pocket Offer?
The DJI Osmo Pock actually has a lot to offer the budding, and dare I say professional, photographer/videographer. Check these features out:
3-axis mechanical handheld gimbal – Provides real time image stabilization to provide the smoothest footage.
Camera:

1/2.3″ Sensor
80° Field of View
f/2.0 Aperture
4K video at 60 frames per second with a 100 Mbps bit rate
12 MP still images with a pixel size of 1.55 μm

Up to 140 minutes of battery life.
Noiseless Cooling System – Super quiet operation.
Universal Port – A multi functional expansion interface allowing you to connect to your smartphone, as well as an ever-growing suite of accessories.
Intelligent Functions:

FPV – Recreate the action from your perspective.
ActiveTrack – Just tap on a subject, and ActiveTrack intelligently follows.

Selfie Mode – Automatically launches FaceTrack, keeping you in the center of the picture.

3×3 Panorama – For breathtaking vistas and landscapes.
Motionlapse – To squeeze a beautiful day into a single shot, Timelapse turns hours into seconds, and Motionlapse adds smooth camera movement for dramatic effect.
NightShot – Automatically detects and illuminates low-lit scenes. You can also take tripod-free, 2-3s handheld long exposure shots in Pro mode.

Pro mode lets you manually adjust camera parameters like aperture, ISO, and shutter speed. Powerful imaging capabilities also capture RAW format photos and D-Cinelike videos.
Robust Editing Suite – Enhance content with a professional touch.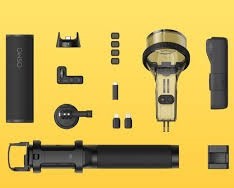 OK, the accessory port is intriguing. Let's see what's currently available:
Charging Case – Stores and charges Osmo Pocket, with dedicated space for two micro SD cards, four ND filters, and two smartphone connectors.
Wireless Module – Provides a Bluetooth and Wi-Fi connection between Osmo Pocket and your smartphone for seamless remote control and transmission.
Controller Wheel – Equipped with a dial for precise pan & tilt control, as well as two operation buttons for improved shooting composition.
Quick Release Base – Uses a twist-lock design to attach to the Accessory Mount, with an industrial adhesive strip for a firm hold to a helmet, board, and other surfaces.
ND Filter Set – Reduces the amount of light entering the sensor, enabling more control of camera settings in any lighting condition.
3.5mm Adapter – Allows the use of a dedicated external microphone for maximizing sound quality in a variety of situations.
Smartphone Adapter – The Smartphone Adapter (Lightning, USB-C) allows you to connect your smartphone to the Osmo Pocket and use DJI Mimo App to experience more.
Waterproof Case – Allows use of Osmo Pocket at depths of up to 60m for smooth underwater shots, detailed close-ups, and clear low-light detail.
Cover – Provides full protection for Osmo Pocket, allowing for quick, safe storage on the go.
Extension Rod – Features an expandable length, gimbal control stick, operation buttons on the handle, and 1/4″ tripod mount.
Accessory Mount – Provides compatibility with a wide range of sports camera accessories to use Osmo Pocket for sports and action-based scenarios.
What about other solutions?
Let's face it, who are we really talking about here. Yes, GoPro is the one-to-beat and, frankly, the DJI Osmo Pocket might just do it.
GoPro is great! I have several of their cameras myself. I use them when I SCUBA dive, Sail and even had them on my DJI Phantom 2's for a time. There are still areas where I'd use my GoPro over the DJI Osmo Pocket, such as when SCUBA diving, mainly because of their small size and shape, allowing me to attach it anywhere and forget about it.
The small cube-like shape of the GoPro just fits my diving style better. I just attach it to my mask and it's out of the way, not to mention, it's also very rugged and can take a tap or two when entering wrecks, going through caves and so on. The DJI Osmo Pocket has a waterproof case too and, if I were going down to take panoramics or stabilized footage, it would be my first pick but, for most of my diving, I like to simply drift around and keep my hands free. The shape and size of the DJI Osmo Pocket's waterproof case doesn't really lend itself to mounting on my mask making it a bit more difficult for me to simply attach it and go. It's more of a hand-held solution in that scenario.
Is the DJI Osmo Pocket right for me?
I guess, in the end, which device you pick will depend on your need and environment. If you're doing cinematography and need that image stabilization or if your a mobile blogger that produces a lot of video, the DJI Osmo Pocket is a great option. On the other hand, if you're like me, the compact, small GoPro form may suit you better in certain situations.
That's not to say there aren't image stabilization options for the GoPro cameras but now you're talking adding onto it, making it more bulky and finding additional cases for waterproofing and what not. It just makes sense to grab the solution that already has most of that addressed. I really do see a place for both but I also see DJI putting a pretty big hurt on GoPro's market penetration.
Conclusion
Well, there you have it… DJI's Osmo Pocket, because life is big! It is quite an impressive device but I have to say, I'm not much into land-based videography, I'm very happy working with my aerial drone footage. That said, I did get the PolarPro Katana as featured on my DJI Mavic Pro Accessories – The Must-Haves post. It pretty much turns my DJI Mavic Pro into a land-based stabilized camera, albeit a very large one compared to the DJI Osmo Pocket.
If stabilized video footage in a tiny package is what you're looking for, get the DJI Osmo Pocket. If the size isn't important, consider one of the larger offerings or, if you have a drone with a 3-axis gimbal, grab a PolarPro Katana or similar and use that.
Do you have an opinion on the DJI Osmo Pocket? Do you of a competing product that should be considered? Did I miss something or do you think I got something wrong in this review? Do you just want to tease me because my initial prediction for the Beacuse Life is Big Event were off? Please comment below. I read and respond to each one.
Thank you,
Scott Hinkle
MavicManiacs.com