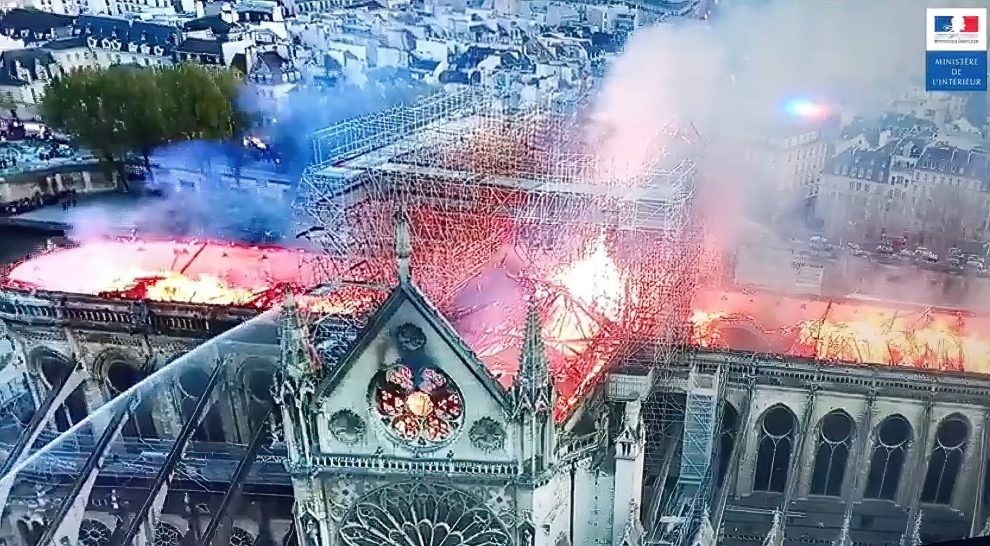 Positive Press – Drones Used to Help Firefighters Track and Put Out the Notre Dame Inferno
April 18, 2019
8
By
Scott Hinkle
Unless you've been hiding under a rock recently, you're probably aware of a devastating fire that ravaged Notre Dame. Although this was a tragic circumstance, it's nice to know that drones are making headway into the emergency services field. During this crisis DJI drones were used to help track the progress of the fire and put it out using the valuable data they provided.
In this Positive Press post, we're going to focus on how drones were used to help firefighters track and put out the Notre Dame inferno.
THIS POST MAY CONTAIN AFFILIATE LINKS. PLEASE SEE OUR AFFILIATE DISCLOSURE FOR MORE INFORMATION.
How Were Drones Used to Help Firefighters Track and Put Out the Notre Dame Inferno?
By taking advantage of the unique vieweing angles and features afforded by the use of the drones, firefighters were able to track the progress of the blaze and use that information to strategically plan their firefighting efforts, placing personnel and equipment in the most advantageous positions to battle the blaze.
Although unconfirmed, it appears that a DJI Mavic 2 Enterprise Dual or possibly a DJI Mavic Pro and DJI M210 were the drones used in this effort. These drones are quite capable aircraft and thermal imaging (if available) is extremely useful in situations like this one.
Spokesman Gabriel Plus told local media that "The drones allowed us to correctly use what we had at our disposal.", "It is thanks to these drones, to this new technique absolutely unavoidable today, that we could make tactical choices to stop this fire at a time when it was potentially occupying the two belfries." and "The drones allowed us to use our available means in the best possible way.".
It should be noted that, in general, flight restrictions on drones are in place at all times in Paris and geofencing is used to prevent drone pilots from flying in the restricted airspace. Such restrictions were removed by DJI in cooperation with authorities to allow the craft to fly. Any drone pilot can request the removal of the geofencing restriction however, certain criteria need to be met in order for that request to be
Could Other Options Provided the Same Critical Information?
Yes and no. Someone could have flown a helicopter above the fire and provided thermal imaging and reporting but the expense would be greater and the danger more pronounced. Flying a drone remotely provides a safer platform to operate form and removes most of the danger to a person element that manned flight can introduce. It can also be argued that the smaller size of the drone allows it to navigate in tighter quarters and even enter the structure should the pilot in command desire.
Even eyes on the ground, with the proper equipment could provide substantial information but that eye in the sky view, really does lend itself to provide a better over-all picture of what's happening, not to mention the fact that it's easy to quickly adjust your viewing angle by simply flying to another point vs driving or running around the building to get a different view.
What's the Next Drone Advancement That Will Help Emergency Responders?
It's hard to say. Thermal imaging has been around for a while, although it's now making a more regular appearance (as with the DJI Mavic Enterprise Dual). The relatively recent release of the DJI Mavic Enterprise and its accessory attachments are a good start too.
I suspect, as drones evolve and are able to carry more, fly longer and so on, we will see great strides in life saving features. Until then, baby steps are better than no steps at all.
A Moment to Reflect…
I don't usually do something like this but the Notre Dame is/was an iconic landmark and religious structure in Paris. As such, it only seems fitting to share some tweets and thoughts of those who were touched by this incident:
— Alexandre Fremont (@alex_fremont) April 15, 2019
Craftsmen built Notre Dame eight centuries ago. Now it may be up to robots to save it.https://t.co/zyfMU1lEuI

— Brendan Schulman (@dronelaws) April 17, 2019
Conclusion
Drones keep making advancement in all areas of business, agriculture, recreation, emergency services and more. As they do, new features and technology will spring forth, offering even more options. I only hope that innovation comes from inspiration and forward thinking vs reaction and response to incidents. Realistically, I suspect it will come from both.
It's nice to see positive press for drones vs the negative that the news feeds love to spread, mainly due to their shock value and I hope to see more positive titles like drones used to help firefighters track and put out the Notre Dame inferno in the future.
Do you have first-hand experience with using drones in a positive way, be it in response to an emergency or other situation? Are you aware of any new drone features, capabilities, tools or advancements that have yet to be announced to the general public? Were you involved in the effort to save Notre Dame? Do you just have something to say about this article? Please let me know by commenting below.
Thank you,
Scott Hinkle
MavicManiacs.com