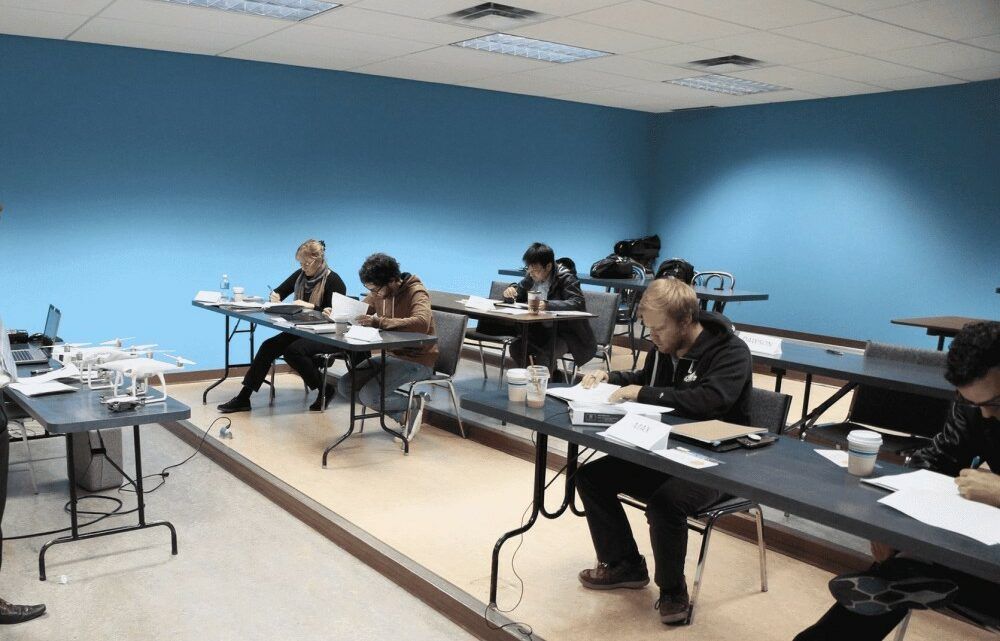 Drone Training Classes – Great Resources for Upping Your Skills and Knowledge in 2019
July 27, 2019
It seems anywhere you look these days, you're bound to find hints, tips, reviews, mandates and other information about drones. If you put your mind to it, you can pretty much build a curriculum from these various sources and teach yourself everything you need to know.
That said, Drone Training Classes might be a better way to go. The real trick is determining which courses and what training platforms are best for you and your learning style.
Today's post will cover several options ranging from online, in-person training and even full-on college courses. We'll also talk about why you should consider Drone Training Classes in the first place.
Let's go ahead and get started, shall we?
THIS POST MAY CONTAIN AFFILIATE LINKS. PLEASE SEE MY AFFILIATE DISCLOSURE FOR MORE INFORMATION.
Why Should I Consider Drone Training Classes?
In short, because you don't know what yo don't know. And, if you do know what you don't know, then you know that you need to learn about it.
Sure, you can piece much of it together online. Hell, I try to share quite a bit of information on this site. Still, it's not all-encompassing and doing it this way can leave gaps in your knowledge. BTW, that's not a plea for you to stop visiting my site. Please keep coming back!
Drone Training Classes are all about making sure you have the knowledge and skills required for the topic at hand and/or to be a safe, competent pilot in general. What's really nice about Drone Training Classes is that they're structured and will teach you what you need to know in a proven systematic way, checking all the boxes, dotting all the I's and crossing all the t's, with each topic building on the previous lesson, etc.
You just don't get that with the do-it-yourself, piece it together training system. Now, which training option best fits your needs and lifestyle? Let's take a look…
Online Options
There is no shortage of drone training courses being offered online these days. The true test is finding the ones that are truly dedicated to helping you learn and not just set up to make a quick buck at your expense.
Considerations
Before selecting an online option, be sure to do a little background checking on the company in question. How long have they been in business? What are their previous students saying about them (check review sites not just the testimonials provided to you by the company)? What type of courses do they offer (basic training, specific use cases, etc.)?
You should also compare the overall costs. If you have a couple of online options that seem to be good candidates, compare their pricing. It may be the tipping factor in your decision-making process. Some companies will charge by the course where others offer a subscription service, etc.
Online Training Companies to Consider
I've done a little research and can tell you the following options are respectable companies that you can trust for your online training needs. Here are a few online options worth checking out:
This is one of the most popular and well-established drone training companies out there. They offer individual and team training options and pretty much cover the gambit when it comes to preparing for commercial drone operations and getting your part 107 certificate. If your goal is to get that 107 certificate and start making money with your drone, Drone Pilot Ground School is a great option.
https://www.dronepilotgroundschool.com/
You may have seen Dart Drones featured on Shark Tank. They really do run the gambit when it comes to drone training. They not only offer online options but in-person as well. Offerings include a professional drone pilot package, online & in-person part 107 training, hands-on flight training and even enterprise training and custom courses for specific use cases. You really can't go wrong choosing Dart Drones.
This company goes all out when it comes to drone training. They cover the basics all the way to very custom use case needs. What's really interesting is they offer a subscription service that gives you access to various trainings for a low monthly fee. Two of these subscriptions are online only and the third actually offers online and in-person. It's definitely worth checking out if you're serious about your drone education. It should also be noted that they offer training around the globe, not just in the US.
This company basically offers three focuses currently; FAA Part 107 Prep, Aerial Video A to Z and Aerial Photo Pro. What's nice about this particular company is that their staff comprises pilots, instructors, practitioners of law, weather professionals, photo and video gurus, etc. If you have a question, chances are, one of their experts can answer it.
https://dronelaunchacademy.com/
If you're in the piloting world, King Schools will be nothing new. They are one of the top suppliers of training and products when it comes to manned flight. Guess what? They've dipped their toes into the UAV world as well. They offer both free and paid-for courses ranging from basic drone pilot training to prepping for the FAA Part 107 exam. They're a great resource to have by your side for sure.
This is a great resource for various training topics. The courses are all online and self-paced and range from flying your drone safely to real estate drone training, mapping and more. There are some freebies offered here as well. You can check out their latest podcasts, take advantage of their free logbook, a pre-flight checklist, and so on.
This company provides excellent training designed by industry experts. They offer both online and offline access and work well on mobile devices too. They even offer a guarantee that you'll pass the first time. Programs include Part 107 training, Drone Flying 101, Airspace, and Charts and Aviation Weather. The prices are reasonable and you can preview each course to see if they're right for you.
As you can see, there are some pretty nice options out there. Each with their own pros and cons. If online learning is for you, check out each of the options above and see which one is the best fit for you.
In-Person Training
Many companies realize that there are a lot of people that prefer the in-person experience. This probably comes from the familiarity of the classroom-type environment and might have a little to do with networking with other like-minded people, etc. Either way, there are several companies that cater to this type of client and offer in-person seminars in various places all over the US (and other countries as well).
Some of these may be large, seminar-style auditorium setups where others may be more personal and offered in smaller group environments, offering a more one-on-one style of teaching. Be sure you know what to expect and that the format fits your learning style best.
In-Person Seminar Options
I'm based in the US so this list will focus on companies that offer in-person training here. That said, there are options in other countries as well and, if you're in another country, I urge you to seek them out and see if they are a good fit for you as well. Here are some US options to consider:
This company provides excellent in-person training on a variety of topics. Currently, they offer their services in the Sacramento, CA and Whittier, CA areas. Certifications include Commercial UAS Remote Pilot, UAS/Drone Mapping & Modeling, UAS/Drone Structure Inspector. Advanced UAS Cinematography Production, UAS/Drone Precision Agriculture, AeroVironment Quantix UAS, UAS/Drone Maintenance and Repair and a Part 107 Remote Pilot Refresher Course.
As I mentioned in the previous section, Dart Drones was featured on Shark Tank. They really do know their stuff and their training is top-notch. Not only do they offer online courses but they actually have an elite team of instructors that provide drone training in 28 cities (currently) across the country! If you have the chance to meet them in-person, do so. You won't regret it. Check out the offerings I listed in the previous section for more info.
Here's another in-person option but on the other side of the country. Located in Bluffton, South Carolina, CrossFlight Sky Solutions offers several courses that you may want to take advantage of. These include FAA Part 107 prep, Basic Flight Training, and Advanced Flight Training. These courses can also be customized to your specific needs. They also offer their services, should you need them. These services include consulting as well as imaging, video and data capture.
https://crossflightskysolutions.com/
This is another one that was also listed in the online section of this post. I won't go into as much detail here because I already covered it previously but I wanted to reiterate that they are a global company and that one of their subscription options offers in-person training as well as online.
If you see a seminar you're interested in coming to your area, take the plunge and sign up for the training. At the very least you'll learn something and have a chance to network with other drone pilots (a great source for inspiration and information).
Now, onto the "accredited" options…
Actual College Courses
Believe it or not, drones are making big strides in the commercial and government sectors. As such, colleges have started offering drone training programs too. These tend to be like any other college course and will usually be smaller class sizes vs many of the in-person seminar options.
Some courses may be offered remotely where others may require in-person participation so be sure to check the requirements for the class(es) you're interested in before signing up. It would really suck to sign up for that course offered by a college a thousand miles away only to find out that you must attend in-person two days a week, etc.
Another consideration is how the class is conducted. Remote or in-person scheduling can be painful if you have other obligations. If the course is more of a recorded offering with certain times that you'll have access to the instructor, that may give you the flexibility you need. If, on the other hand, the course is conducted live, and you're expected to attend, you may need to shuffle other obligations around to make it work. Be sure you can manage the requirements before signing up.
Because there are quite a few colleges now offering drone courses, I'm simply going to list the ones I know of here. I won't go into the course details and will simply let you visit their websites to find out more. Otherwise, this article will expand into several more pages…
Colleges Offering Drone Courses
Embry-Riddle Aeronautical University (Daytona Beach, FL)
Kent State University (Kent, OH)
Purdue University (West Lafayette, IN)
Oklahoma State University (Stillwater, OK)
Indiana State University (Terre Haute, IN)
Kansas State University (Salina, KS)
University of North Dakota (Grand Forks, ND)
Liberty University (Lynchburg, VA)
South Dakota State University (Brookings, SD)
Green River College (Auburn, WA)
LeTourneau University (Longview, TX)
Troy University (Troy, AL)
Lewis University (Romeoville, IL)
University of Louisiana at Monroe (Monroe, LA)
Northwestern Michigan College (Traverse City, MI)
University of Nevada, Reno (Reno, NV)
Middle Tennessee State University (Murfreesboro, TN)
Unmanned Vehicle University (Phoenix, AZ)
Spartan College of Aeronautics and Technology (Tulsa, OK)
SKYOP (Canandaigua, NY)
Grossmont College (El Cajon, CA)
Gavilan College (San Jose, CA)
Cypress College (Cypress, CA)
The University of Vermont (Burlington, VT)
MiraCosta College (Carlsbad, CA)
Central Oregon Community College (Bend, OR)
Unmanned Vehicle University (Phoenix, AZ)
I actually write an article about drone college courses. Check it out here.
I have to say, I'm both impressed and dismayed that colleges are now offering drone courses. Impressed because it shows how far the drone industry has come and that it's only getting bigger and dismayed because I didn't have the option to take a drone class when I went to college, LOL.
I've only listed a couple of options here. There are probably a lot more college courses out there that I simply don't know about. Be sure to check your local college's course list to see if there's one offered near you.
Conclusion
As you can see, you have a lot of options when it comes to Drone Training Classes. There's nothing that says you have to only take one path either. If you find an online course you like, take it. If you find an in-person option that interests you, take that one too. What's the worst that going to happen? You might learn too much?
Also, there's nothing wrong with adding to your knowledge via unstructured resources either. Hopefully, you find one or more of my posts useful and informative. By all means, keep coming back! I plan to continue to offer information, reviews, and opinions for some time to come.
So, what do you think of your options when it comes to Drone Training Classes? Do you prefer one learning environment over another? If so, which one and why? Have you taken any of these courses? What did you think of them? Are you going to take one of the courses listed above? Please let me know which one. Is there an option or course that isn't listed here but you think should be? Please let me know by commenting below.
Thank you,
Scott Hinkle
MavicManiacs.com