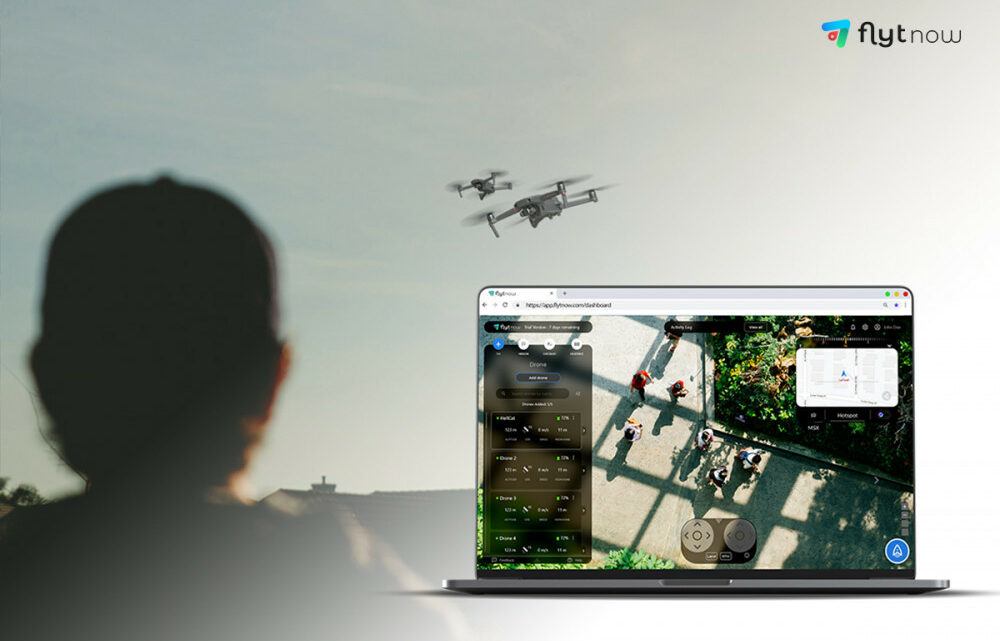 How Does Automated Drone Surveillance Work? | An Insightful Look Under The Hood
May 12, 2020
8
By
Scott Hinkle
Integrating drones and automation technology has been gaining traction in recent years. Today's guest post, from FlytBase, Inc., aims to demystify one sector by answering the question: How Does Automated Drone Surveillance Work?.
Let's take a closer look and find out…
Drones are unmanned flying robots – also called unmanned aerial vehicles (UAVs). They can either fly autonomously or be remotely controlled by a human pilot. Often, drones used for non-military purposes carry sophisticated hardware that includes a wide range of sensors
and a navigation system like GPS, which works in tandem with intelligent software.
Drones are rapidly being adopted for commercial applications, and surveillance is one of the popular use cases. There are numerous service providers across the world that provide specialized aerial surveillance services across different industries, with each one having their own portfolio of drones, use-cases, and expertise. According to a report from Markets-and-Markets, the drone service industry as a whole is expected to cross USD 60 Billion by 2025.
THIS POST MAY CONTAIN AFFILIATE LINKS. PLEASE SEE MY AFFILIATE DISCLOSURE FOR MORE INFORMATION.
What is Drone Surveillance?
Drone surveillance is the use of UAVs to gather visual information about an individual, object, or situation with the purpose of providing relevant information to security stakeholders.
Depending on the specific security use & surveillance, the type of drone will vary.
For example:
Fixed-wing drones are used for line monitoring that involves high-level surveillance of highways, pipelines, coastal lines, etc. Since such missions require long-distance capabilities with long flight times, fixed-wing drones are used.
Multi-rotor drones are more common for surveillance of smaller areas, crowds, hard-to-reach locations, etc. since they are highly maneuverable and better suited for missions involving object tracking.
Surveillance using drones has several advantages over traditional surveillance systems, such as:
A traditional setup requires multiple cameras since a single camera is limited by its stationary nature.
A drone can carry an array of advanced sensors like high-resolution cameras, IR/thermal cameras, sensors, radar, etc. – thus enabling capabilities such as night-time surveillance using IR sensors.
A single drone can cover a large area much faster than an array of fixed cameras, or human guards, and can safely access places that are hard to reach or operate in potentially dangerous situations.
What are Some Characteristics of an Automated Drone Surveillance System?
Intelligent software is at the core of a commercial drone surveillance system. This includes a range of abilities that empower local and remote stakeholders, for example:
In the event of a security breach, the system can automatically dispatch a drone fleet to the appropriate location(s), and stream live video feeds directly to the control room.
The security drones can be programmed to perform automatic patrols at a specified interval along predefined routes.
Human operators can remotely control not only drones but also gimbals, cameras, and other payloads, to assess a live situation as it unfolds – thus helping make better-informed decisions.
The system can automatically distinguish between humans and objects, using machine vision and AI/ML techniques, and thus automatically alert the control room when trespassers are detected.
The system is capable of automatically and precisely landing these drones on charging pads or docking stations, during surveillance missions.
The above points represent the most common characteristics but should not be considered a comprehensive list. Depending on the use-case, additional and custom capabilities may be developed and introduced.
How to Deploy Cloud-Connected Drones for Surveillance
Cloud-based software solutions, with drones connected via 4G/LTe/5G, enable large-scale deployment of drones for the purpose of residential, commercial, and industrial security and surveillance.
FlytNow is a market-leading solution that offers a suite of features designed for aerial surveillance operations. This intelligent automation software includes:
Remote control of drones over 4G/LTE/5G cellular networks.
Mission planning using waypoints.
Scheduled drone patrols.
Live telemetry, control, and video data, at low-latency.
3rd party integration of UTM, regulatory compliance, and airspace information tools.
Support for thermal sensors for night-time surveillance.
Support for precision landing, required for landing the drone on a charging station.
Role-based access to the entire system to facilitate team management while ensuring security and privacy.
FlytNow for Security thus acts as a central command center where multiple aerial missions are monitored and controlled in real-time. Security managers can remotely assess security incidents using live, high-quality HD videos – and even store the relevant data in public/private cloud instances, for analysis and audits.
To minimize the reliance on human guards, UAV missions can be planned along waypoints of interest, so that drones can perform scheduled patrols at defined intervals. When drones are in flight, they leverage cellular networks to communicate with the ground station/command center, so that even BVLOS (beyond visual line of sight) operations are possible.
Such drone surveillance systems can even be paired with ground-based motion sensors so that unusual activities can be used as triggers to deploy drones automatically.
How About Offering Some Examples of Drone Security & Surveillance?
There are many use-cases that can take advantage of using drones for security and surveillance. These scenarios can now be managed much more efficiently utilizing the tools currently available. Here are some examples:
Intruder Detection: It is probably the most common use case, where drones are used to catch intruders on residential and commercial properties.
Crowd Management: During large gatherings, events, political rallies, and similar situations, drones can be an ideal tool to watch for unruly behavior, issue warnings or urgent messages, shine lights, etc.
Wild-Life Protection: Drones can easily and quickly cover a large swathe of land, thus helping wildlife officials keep a watchful eye on poaching activities, forest fires, illegal mining, etc.
Border Patrol: Given their historical use in military applications, drones are a natural tool for border security and paramilitary forces – to help deal with illegal immigration, drug runners, etc.
How Does Automated Drone Surveillance Work? – Conclusion
Drones will continue to play an increasingly important role in residential, commercial, and industrial security. The capabilities, cost-effectiveness, and scalability of drone fleets make them inherently superior to traditional security systems. Software-driven automation will continue to make security drones smarter, easy to adopt, and safe to scale.
Check out this FlytBase Technology Overview video:

I hope this post has answered the question: How Does Automated Drone Surveillance Work?. Now, I'd like to hear from you…
Do you currently use drones for security and/or surveillance? If so, is it a manual process, or are you using automation tools? Do you already use FlytBase's solutions? If so, how is it working for you? If not, are you thinking of checking them out? Is there a use-case that you believe should be included in this post? Please let us know by commenting below.
Also, FlytBase has opened up their services to the public.  Check out their store here.
Thank you,
Scott Hinkle
MavicManiacs.com