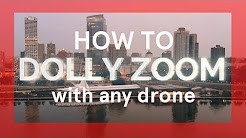 Dolly Zoom Effect With Any Drone by Willie Morris – A Mini Post
August 26, 2018
Hey everyone. I just wanted to share a how-to on creating the Dolly Zoom Effect With Any Drone by Willie Morris.  This is very similar to the effect shown off with the DJI Mavic 2 Zoom. This one effect is what had me on the fence as to which of the new Mavic 2 models to buy, the Pro, the Zoom or both. Now that I've seen how easy it is to get the zoom effect in post-production, it has locked in my choice to the Pro model, which is where I was leaning toward anyway for the amazing upgraded camera.
Check out my post The DJI Mavic 2 – The New Models are Finally Here! for my thoughts, teaser videos and all the specs.
THIS POST MAY CONTAIN AFFILIATE LINKS. PLEASE SEE OUR AFFILIATE DISCLOSURE FOR MORE INFORMATION.
How To Make DJI's Dolly Zoom Effect with Any Drone!
You'll be amazed at how easy this effect is to create. Check out Willie's how-to video below:
Is That It?
That's it! A few seconds in post-processing and BAM!, a professional effect. Just make sure you pay attention to what Willie says and that you apply this effect to in the opposite direction that the drone is moving (i.e. if the drone is moving toward the subject your effect should be zooming away and vice versa.
Thank You!
Again, a big thank you goes out to Willie for putting together a quick, yet awesome, how-to.
Conclusion
There you have it, a how-to on creating the Dolly Zoom Effect With Any Drone by Willie Morris. This is a first "shout out" type of post for this site. If you like it, hate it, want to see more like it, have others you think I should feature here, please let me know by commenting below.
Thank you,
Scott Hinkle
MavicManiacs.com